MEAT & POTATOES: IONIAN MODE
Support BLOGoZON and buy.......

direct from Lulu.com
---
Elias Viljanen
Sonata Arctica have the accomplished guitarist
Elias Viljanen (who is an Ibanez endorsee) to provide the cutting edge solos and super tight rhythm/riffs for their brand of hard rock music.

Elias Viljanen (Sonata Arctica) - guitar solo [LIVE]

To become super-adept at improvised soloing in a Steve Vai, Joe Satriani or Elias Viljanen style it is very important that scale and arpeggio information can be assimilated and then instantly recalled at the approprate time. Hence a logical and systematic method is required to first map the information then learn it and finally put it to good practical use. Consequently the arpeggios presented below have been engineered in such a fashion that they fit perfectly within the 3 notes per string major scale box shapes first presented in BLOGoZON No. 10.
---
CAGED octaves three notes per string guitar method - General
The main body of this website details the CAGED octaves memorisation method which works exceptionally well for the standard box shapes however modification is required for three notes per string patterns.
The three notes per string scale patterns (sweep picking) produce seven individual shapes which are known elsewhere as Patterns I, II, III, IV, V, VI and VII.
These shapes cannot be classified with the conventional CAGED guitar system as they are hybrid shapes that sit across more than one letter of the word CAGED at a time, however the CAGED octaves method eliminates this problem.
The diagram that follows shows all seven of the CAGED octaves shapes for use with the three notes per string patterns:-
The roman numeral shape names and the CAGED octaves equivalents are listed for the MAJOR SCALE in the table that follows:-
| | |
| --- | --- |
| Shape No. | CAGED octaves |
| I | 6E4D2 |
| II | 4D2 |
| III | 5C2 |
| IV | 5A3 |
| V | 5A3G1 |
| VI | 6G3G1 |
| VII | 6E4E1 |
---
CAGED octaves - C major arpeggio 3 notes per string box shapes
The CAGED octaves method for C major arpeggio box shapes (three notes per string) on 6-string guitar now follows:-

The 6-string guitar CAGED octaves sequence is shown for C natural in the diagram that follows:-


The diagram that follows shows all of the C major arpeggio notes plotted over the 6-string guitar's fretboard in both the Guitar Pro 6 and the CAGED octaves styles:-


As always a more long term solution to fretboard navigation is to see scales/arpeggios as INTERVAL shapes rather than note names - as these are universal to all scales, arpeggios and chords rather than specific to one particular root note - with this in mind the intervals for the C major arpeggio are detailed below for the
6-string guitar in the CAGED octaves manner:-

The table and tabbed panel below details all seven box shapes for the C major arpeggio (three notes per string) for the 6-string guitar in the CAGED octaves style.
---
---
5C2
5A3
5A3G1
6G3G1
6E4E1
6E4D2
4D2
5C2 at 12
---
---
5C2
5A3
5A3G1
6G3G1
6E4E1
6E4D2
4D2
5C2 at 12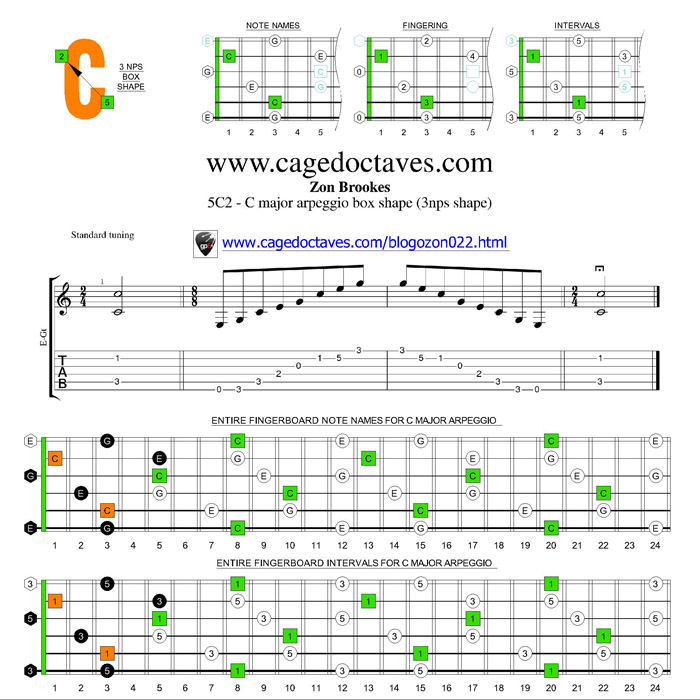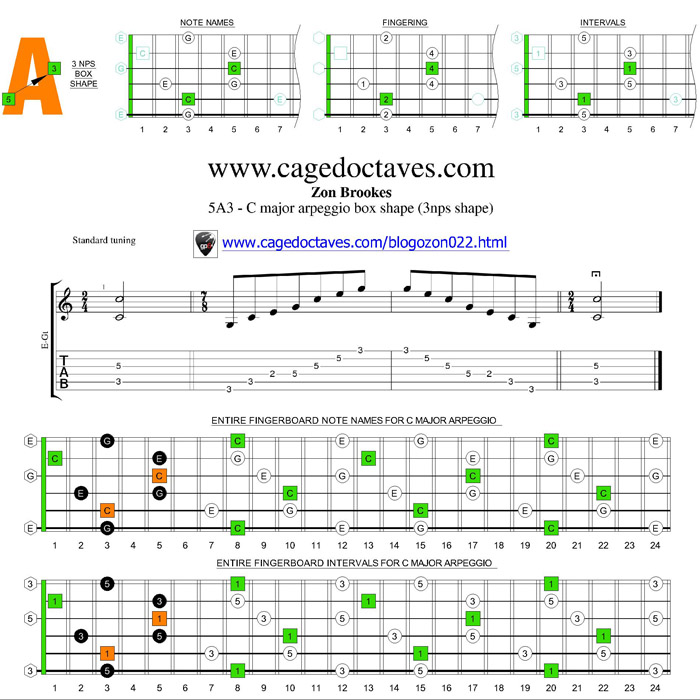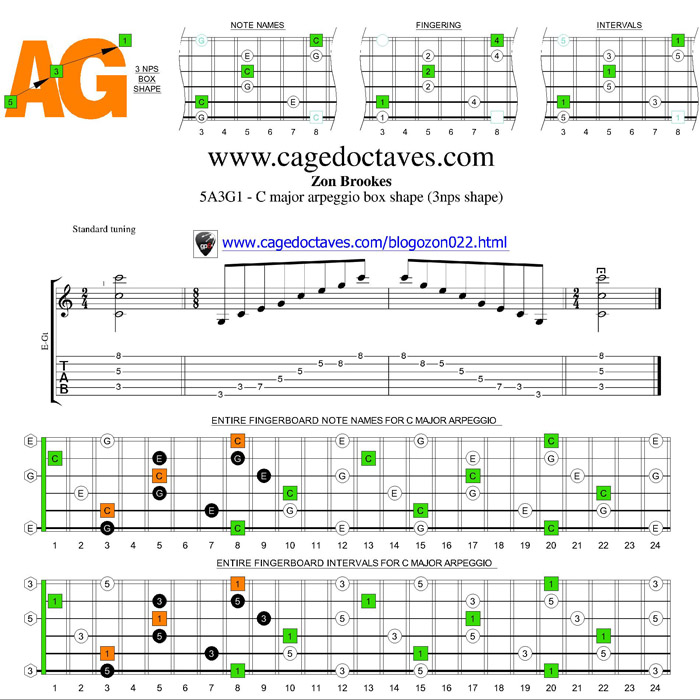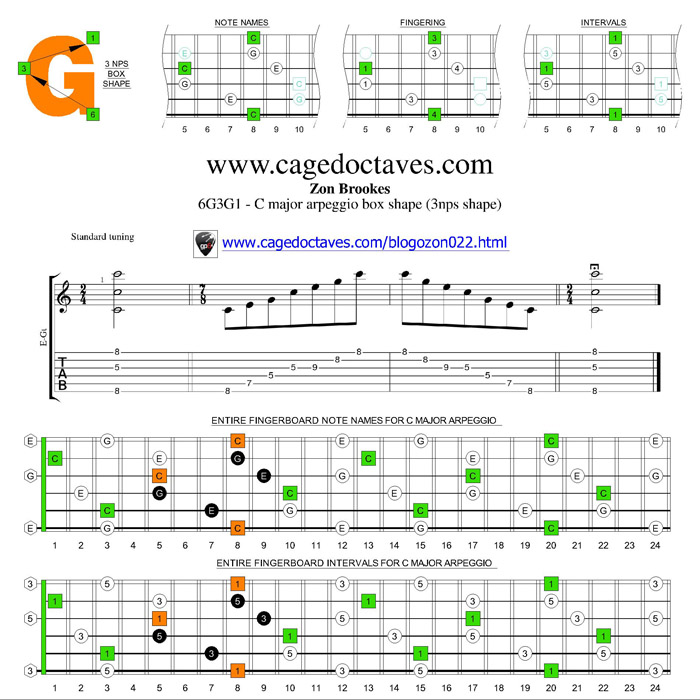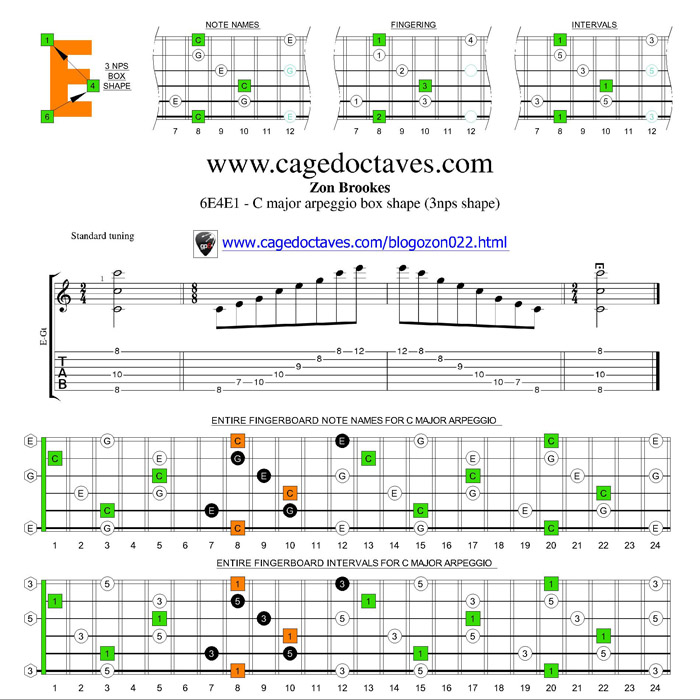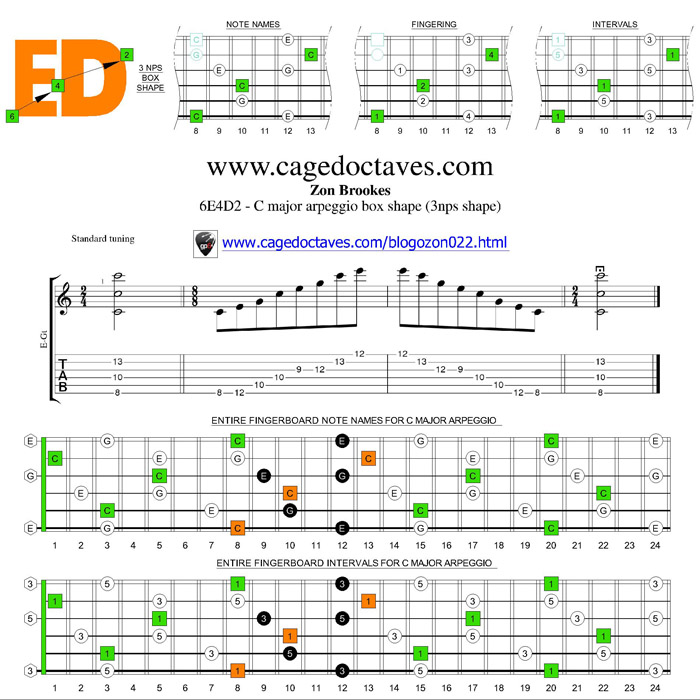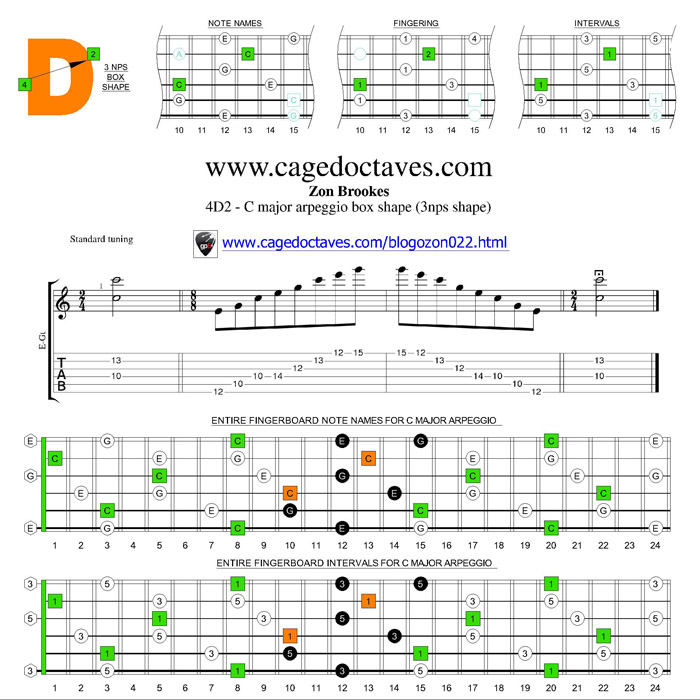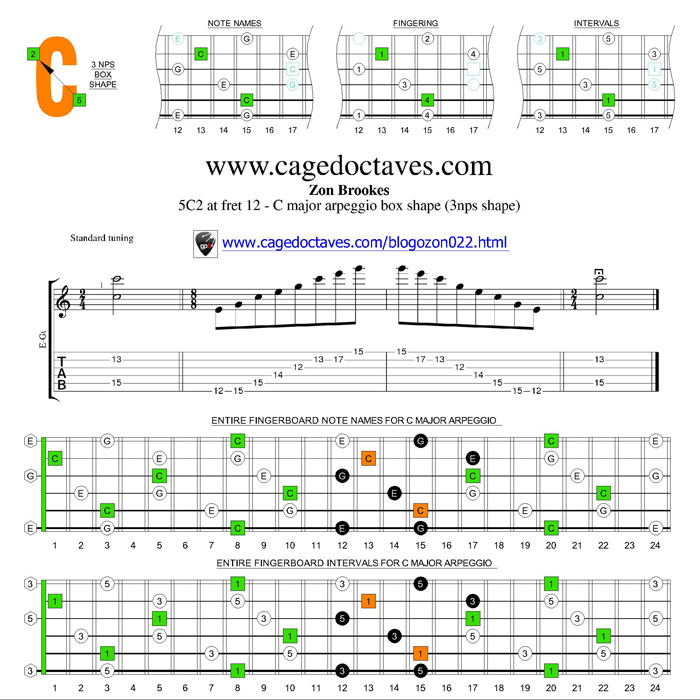 ---
---