Robben Ford
Supernatural(Live) - Robben Ford

Robben Ford Style - Stuart Bull introduction

Robben Ford Style - Quick Licks - by Stuart Bull

Guthrie Govan on Robben Ford's guitar sound

Robben Ford is the accomplished blues/jazz guitarist who likes to inject a modal feel to his improvisations. Hal Leonard produce a Best of Robben Ford tab book plus a series of play in the style of Robben Ford DVD/books. A photo of the now defunct Fender Robben Ford is shown right.
Rather than adopt the standard minor pentatonic soloing approach so beloved by other blues/rock guitarists Robben Ford travels via a more modal path, in other words over minor chords he tends to favour the DORIAN MODE.

The dorian mode is just the major scale played from the second note (rather than the first) up to the same note one octave higher - so the C major scale is C D E F G A B (C) - Formula 1 2 3 4 5 6 7 (8)
therefore the D dorian mode is D E F G A B C (D) - Formula 1 2 b3 4 5 6 b7 (8).

However the D dorian mode should really be compared to D natural minor - 1 2 b3 4 5 b6 b7 (8) - the only difference being that the minor sixth (b6) is replaced by the major sixth (6). The approach adopted by Ford and others is to follow the minor chord with its corresponding dorian mode - so for a blues in the key of D minor the following takes place:-
| | |
| --- | --- |
| Chord name | Mode used for improvisation |
| Dm | D dorian |
| Gm | G dorian |
| Am | A dorian |
To cement the relationship between the mode and the chord the MODAL ARPEGGIO should be learnt - in other words the defining chordal sound produced by the mode. For D dorian the modal chord is D minor sixth (Dm6). A blues sequence in D minor is tabbed below and the Guitar Pro 5 file is available via this link.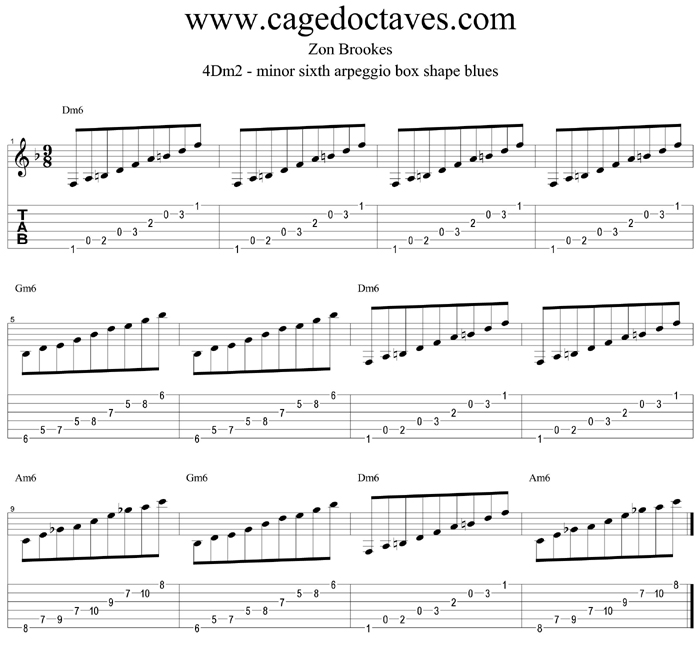 The D dorian mode is explored in detail using the CAGED octaves methodology in the next tabbed panel:-
D dorian mode - box shapes
---
4Dm2

5Cm2
5Am3
6Gm3Gm1
6Em4Em1
4Dm2 at 12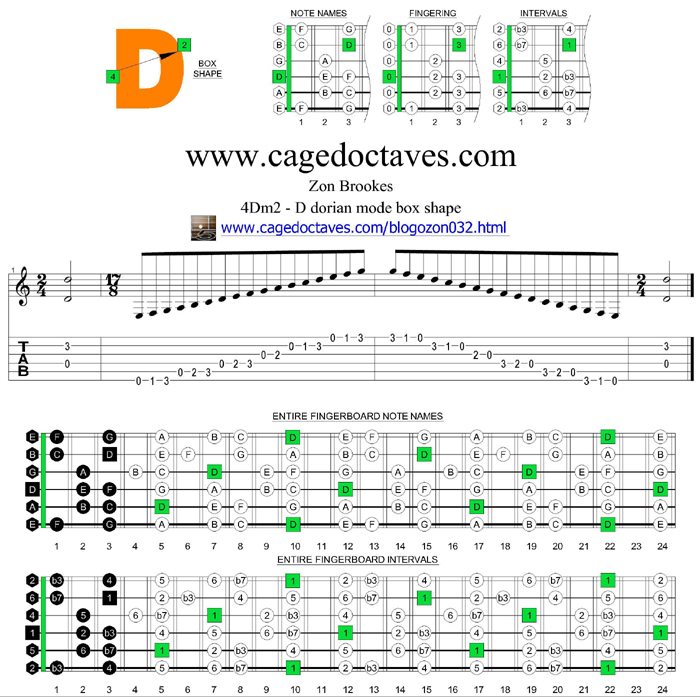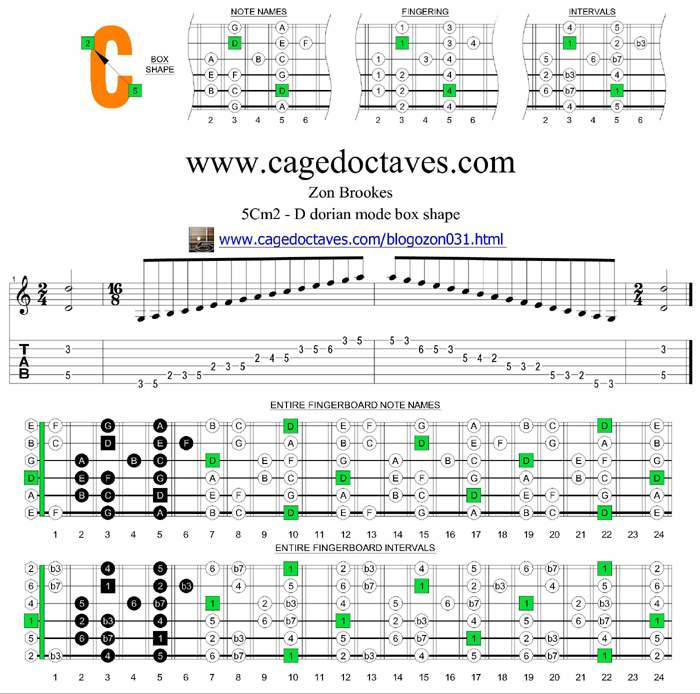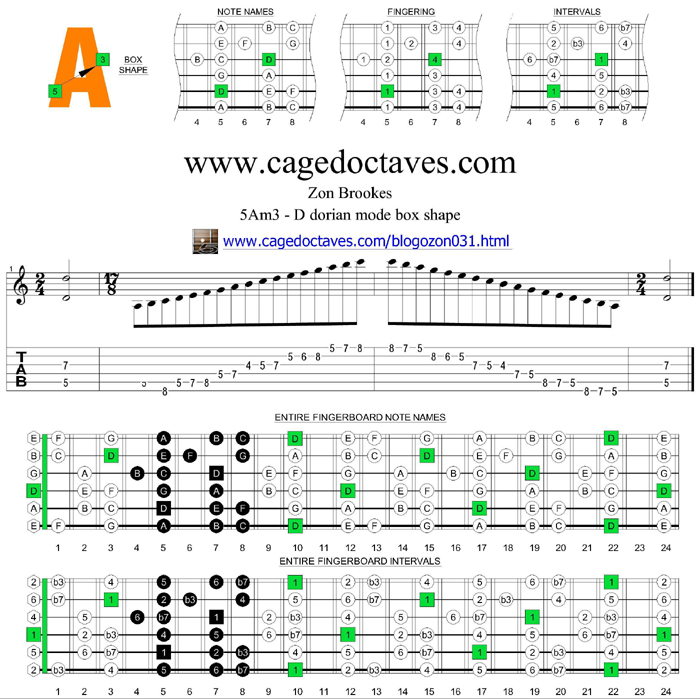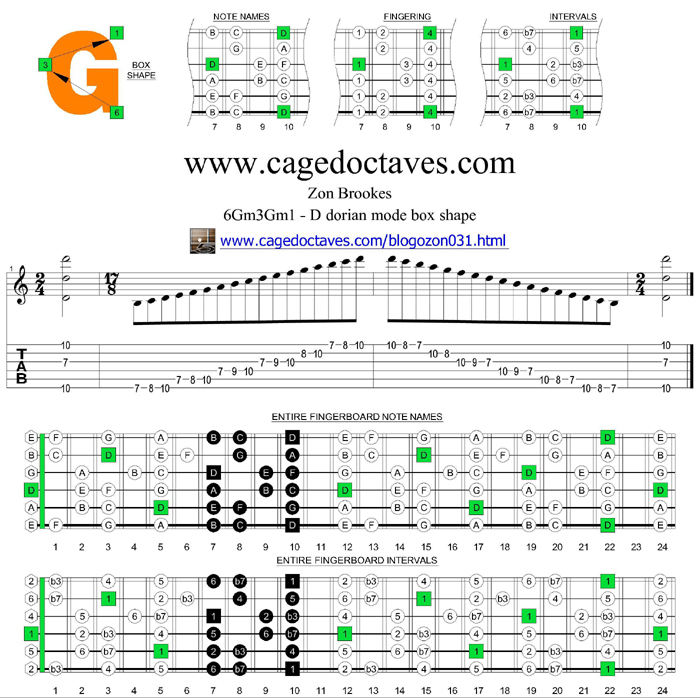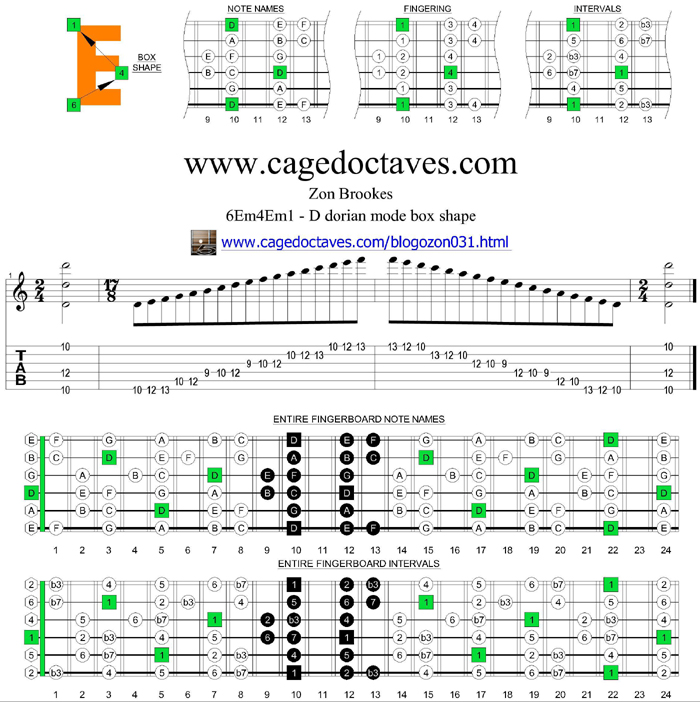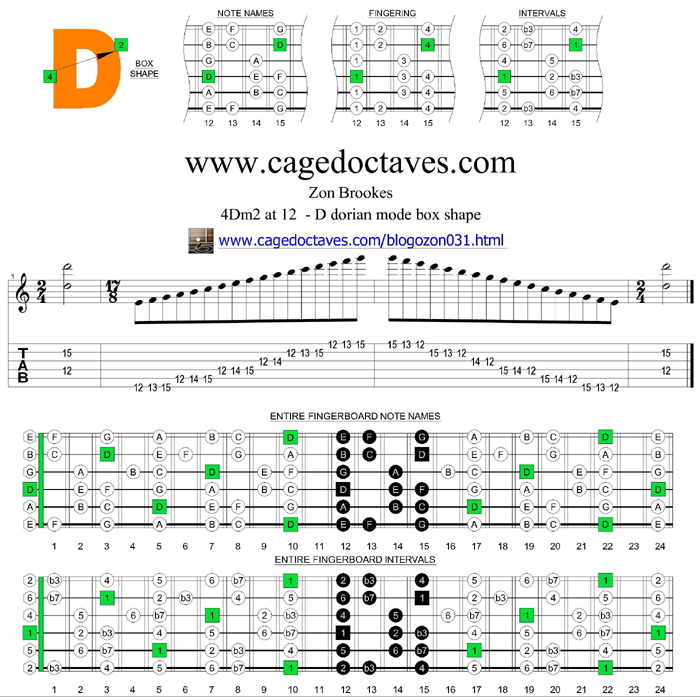 ---
The D minor sixth arpeggio is explored in detail using the CAGED octaves methodology in the next tabbed panel:-
Dm6 - box shapes
---
4Dm2
5Cm2
5Am3
6Gm3Gm1
6Em4Em1
4Dm2 at 12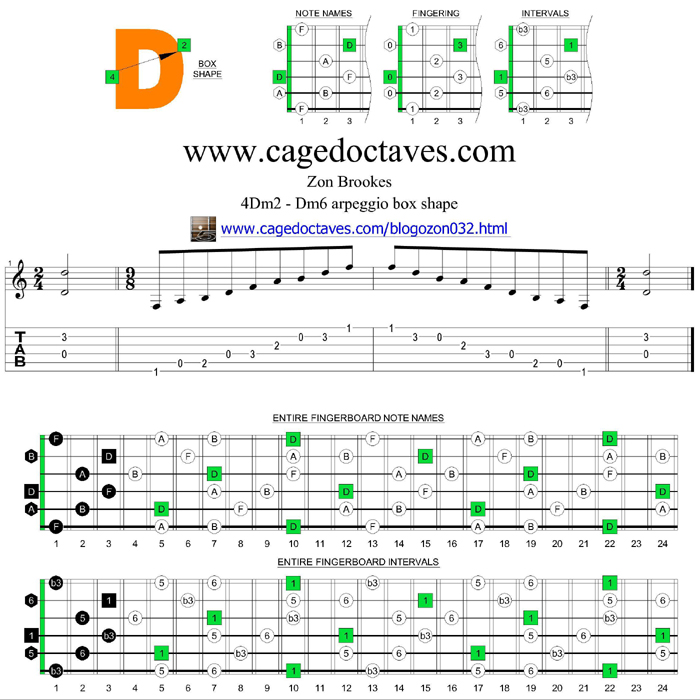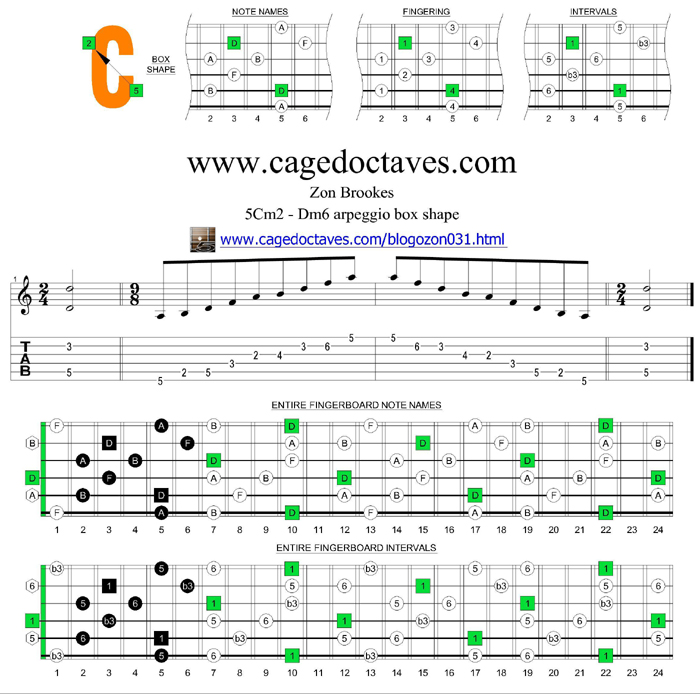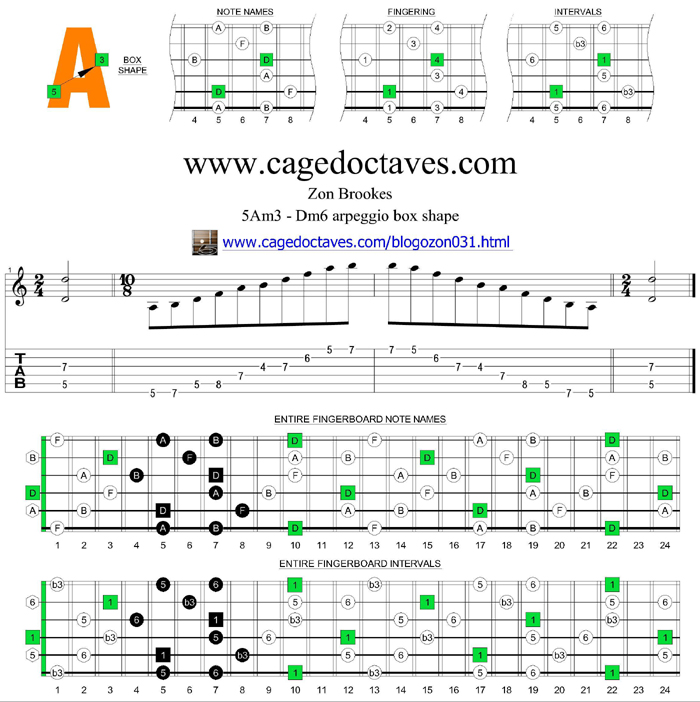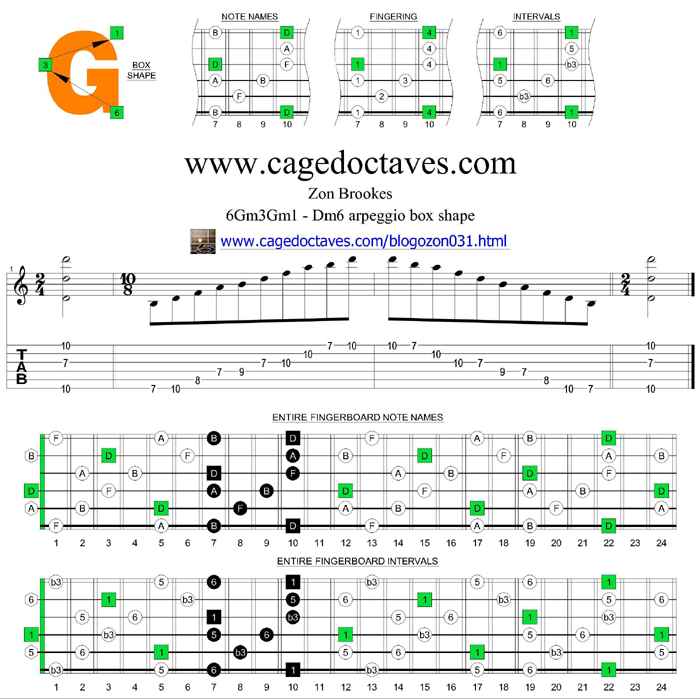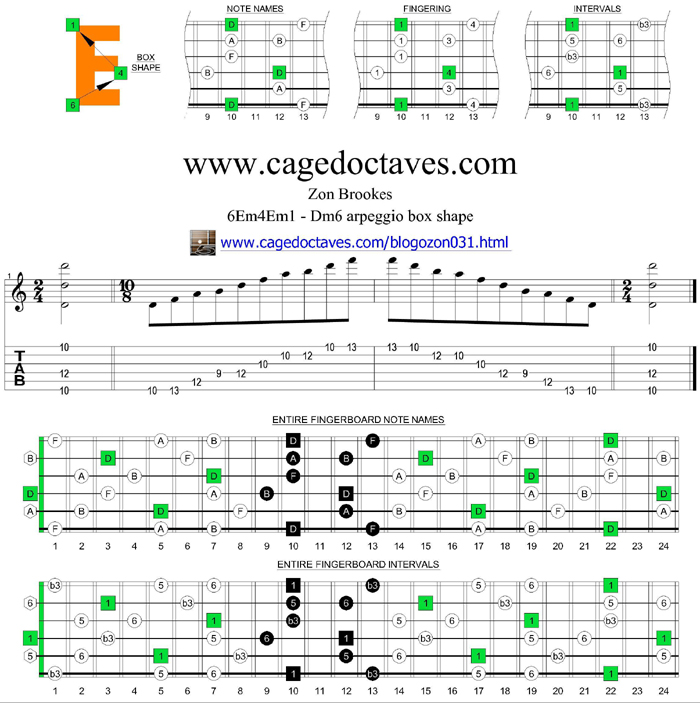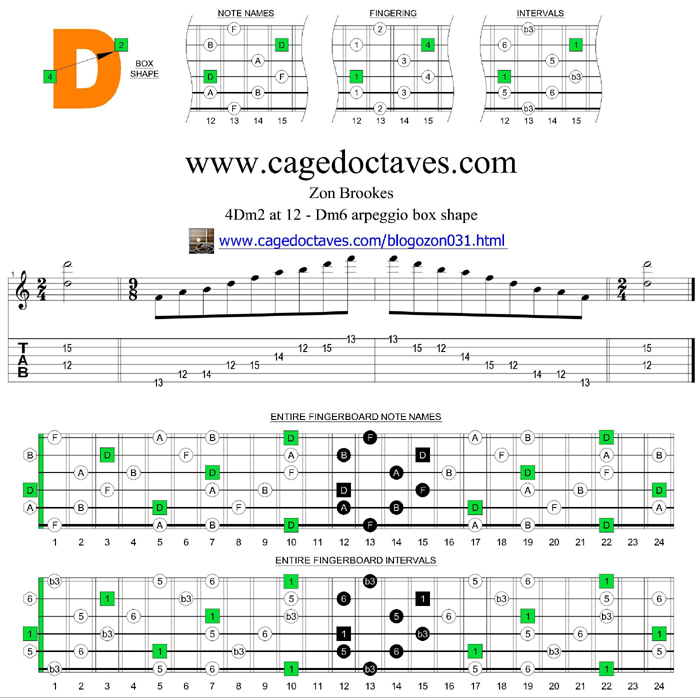 ---
---