MEAT & POTATOES: IONIAN MODE
Support BLOGoZON and buy.......

direct from Lulu.com
---
Edward Van Halen
Edward Van Halen holds the distinction of being on the cover of the July 1984 edition of Guitar Player magazine which spawned CAGED octaves.

Musicroom.com sell The Best of Both Worlds TAB book which covers Van Halen's music.



Van Halen has been associated with a number guitars by varying manufacturers over the decades:-
The Frankenstrat; Kramer; Music Man and Peavey.

At present an EVH Wolfgang special signature guitar is produced as shown below.

Van Halen on David Letterman Show 1995
---
The main body of this website details the CAGED octaves memorisation method which works exceptionally well for the standard box shapes however modification is required for three notes per string patterns.
The three notes per string scale patterns (sweep picking) produce seven individual shapes which are known elsewhere as Patterns I, II, III, IV, V, VI and VII.
These shapes cannot be classified with the conventional CAGED guitar system as they are hybrid shapes that sit across more than one letter of the word CAGED at a time, however the CAGED octaves method eliminates this problem.
The diagram that follows shows all seven of the CAGED octaves variant - EDCAG octaves - for use with the three notes per string patterns:-

The roman numeral shape names and the CAGED octaves equivalents are listed for the E MAJOR SCALE in the table that follows:-
| | |
| --- | --- |
| Shape No. | CAGED octaves |
| I | 6E4D2 |
| II | 4D2 |
| III | 5C2 |
| IV | 5A3 |
| V | 5A3G1 |
| VI | 6G3G1 |
| VII | 6E4E1 |
The EDCAG octaves sequence is shown for E natural in the diagram that follows:-


The diagram that follows shows all of the E major scale notes plotted over the guitar's fretboard in the EDCAG octaves style:-
As always a more long term solution to fretboard navigation is to see scales/arpeggios as INTERVAL shapes rather than note names - as these are universal to all scales, arpeggios and chords rather than specific to one particular root note - with this in mind the intervals for the E major scale are detailed below in the EDCAG octaves manner:-

The tabbed panel below details all seven 3 notes per string patterns for the E major scale box shapes.
---
EDCAG octaves - E major scale 3 notes per string box shapes
---
6E4D2
4D2
5C2
5A3
5A3G1
6G3G1
6E4E1
6E4D2 at 12
---
6E4D2
4D2
5C2
5A3
5A3G1
6G3G1
6E4E1
6E4D2 at 12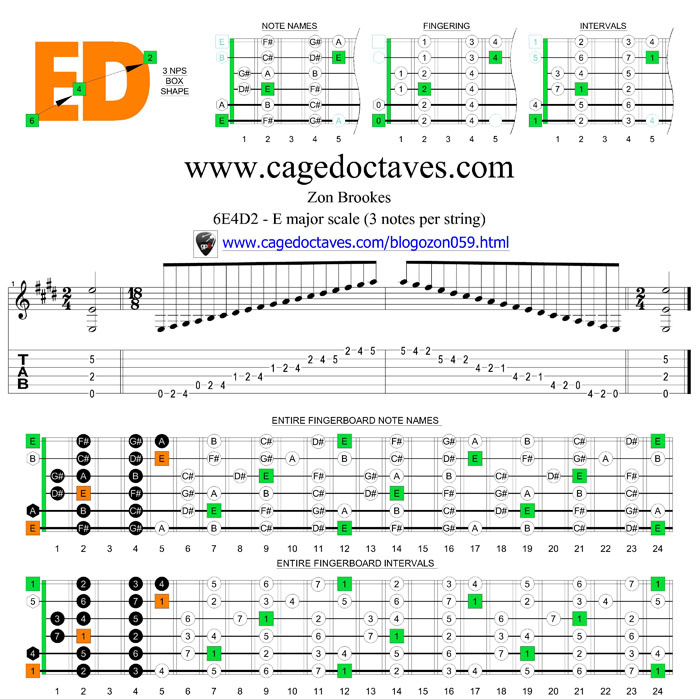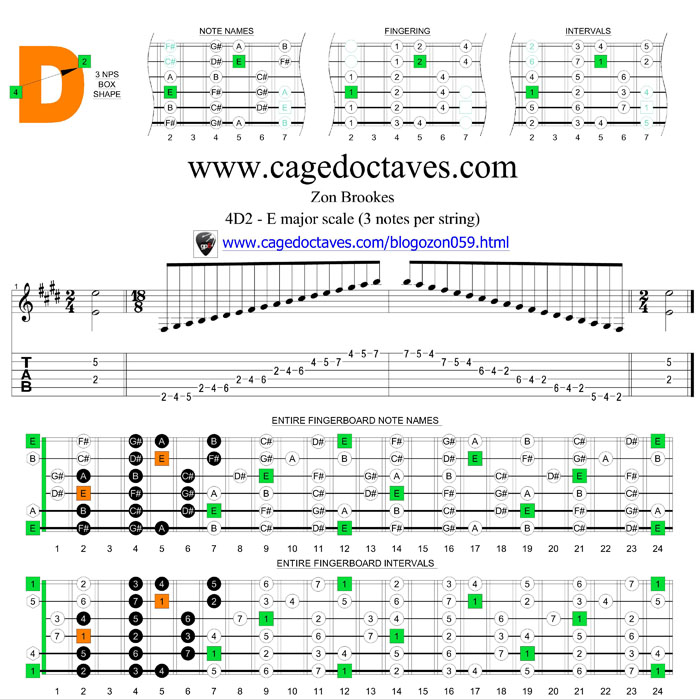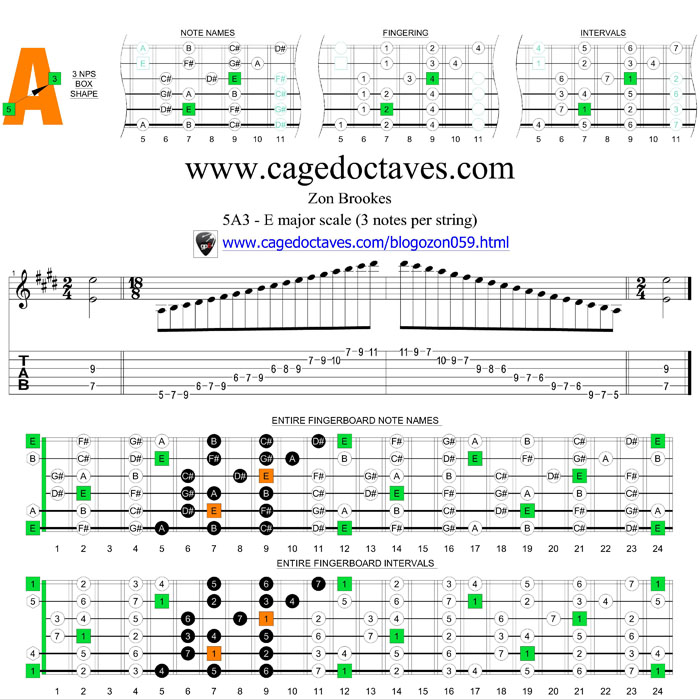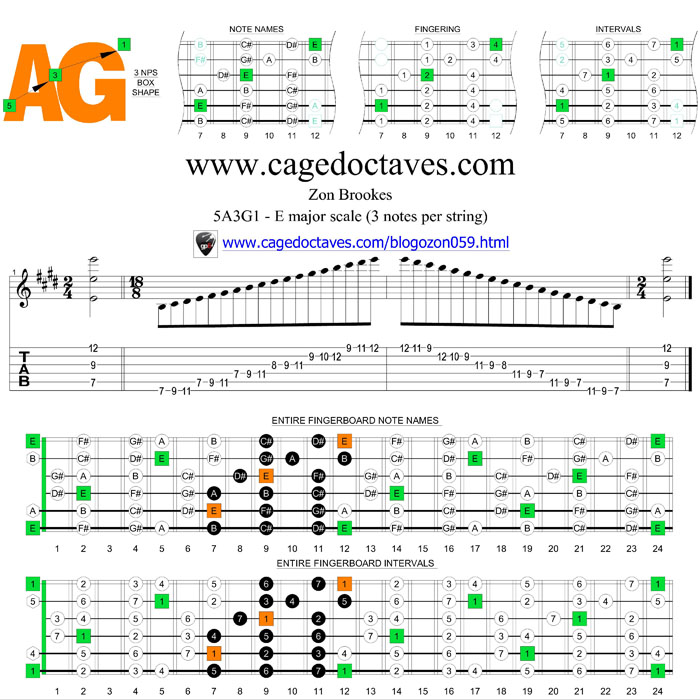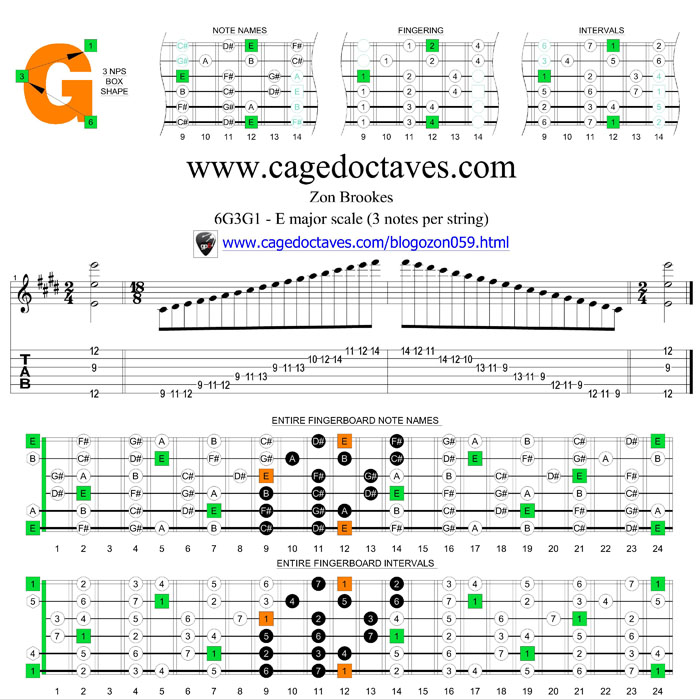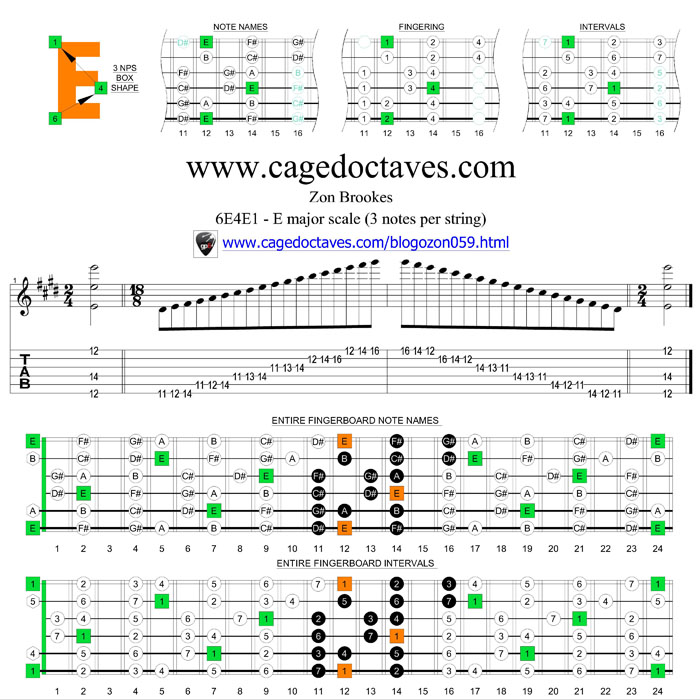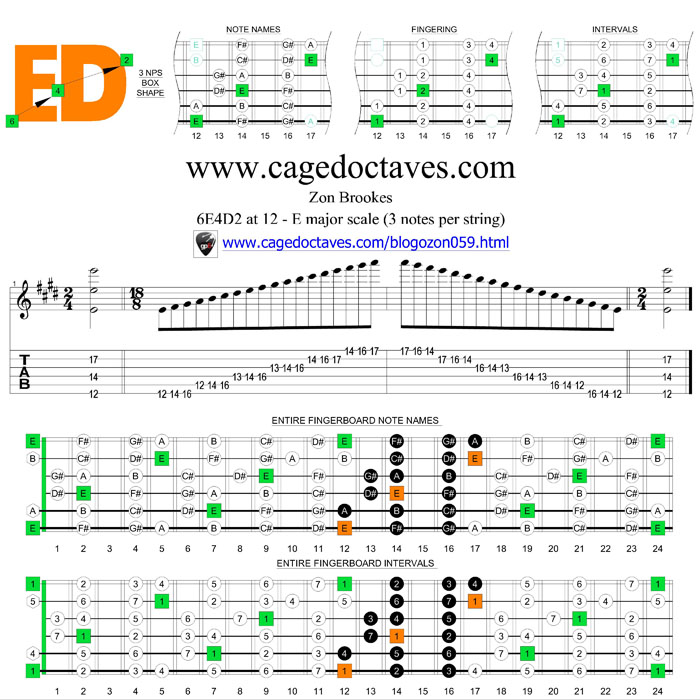 ---
---