MEAT & POTATOES: IONIAN MODE
Support BLOGoZON and buy.......

direct from Lulu.com
---
Tony Iommi
Tony Iommi is the Brummie inventor of Heavy Metal along with his band Black Sabbath.

Tony Iommi playing War Pigs and Paranoid solos
---
C major-minor arpeggio box shapes

In BLOGoZON No.100 the box shapes for the C major blues scale were demonstrated but as with all scales there is an underlying triad (3 note chord) which defines that scale's overall tonality. Usually this is either a major or minor chord (depending on the type of third present in the particular scale being analysed), however blues scales are special in this regard as they have an underlying 4-note chord. In the case of the C major blues scale the underlying 4-note chord is the major-minor which is the summation of both a major (1, 3, 5) and a minor (1, ♭3, 5) triad (with the 1 and the 5 being common to both chords).
The easiest example of the MAJOR-MINOR ARPEGGIO is rooted on C natural, hence the CAGED octaves sequence is shown for C natural in the diagram that follows:-


The diagram that follows shows all of the C major-minor arpeggio notes plotted over the 6-string guitar's fretboard in the CAGED octaves styles:-

A more long term solution to fretboard navigation is to see scales/modes/arpeggios as INTERVAL shapes rather than note names - as these are universal to all scales, modes, arpeggios and chords rather than specific to one particular root note - with this in mind the intervals for the C major-minor arpeggio are detailed below in the CAGED octaves manner:-

The table and tabbed panel below details all five box shapes for the C major-minor arpeggio for the 6-string guitar in the CAGED octaves style.
---
CAGED octaves C major-minor arpeggio box shapes

---
5Cm2
5Am3
6Gm3mG1
6Em4Em1
4Dm2
5Cm2 at 12
---
5Cm2
5Am3
6Gm3Gm1
6Em4Em1
4Dm2
5Cm2 at 12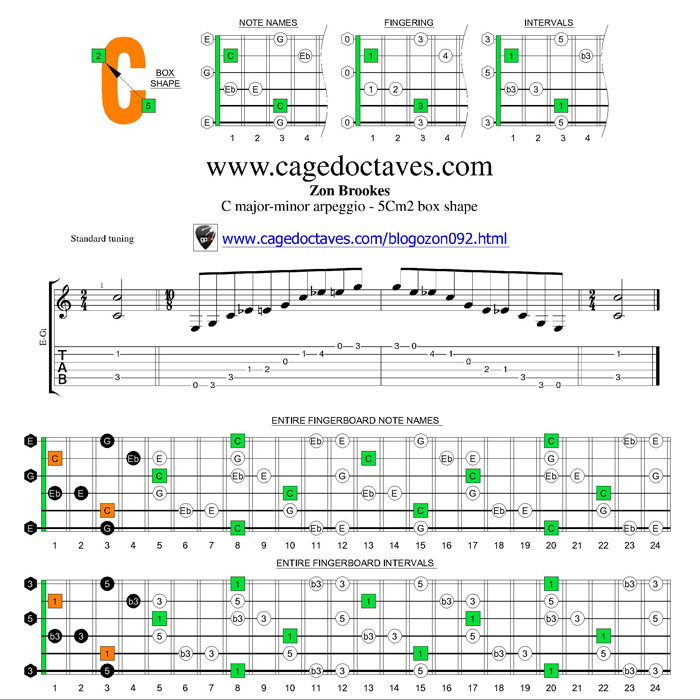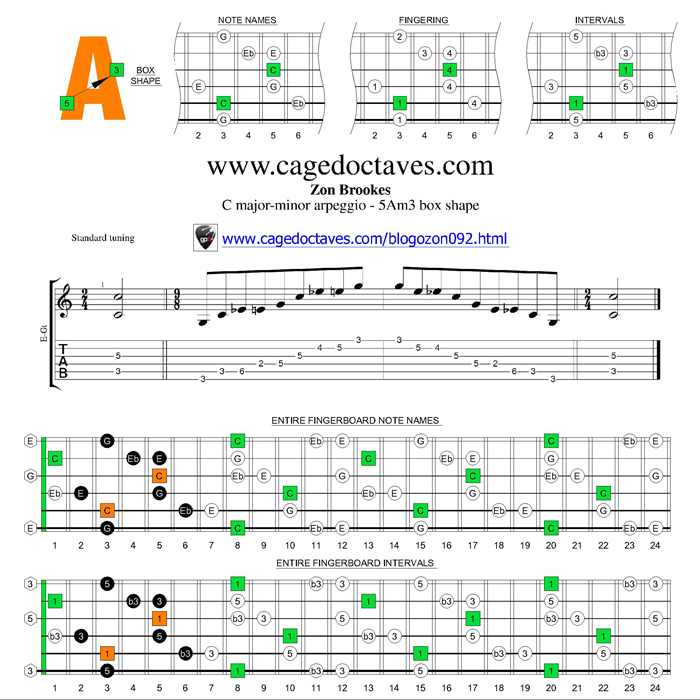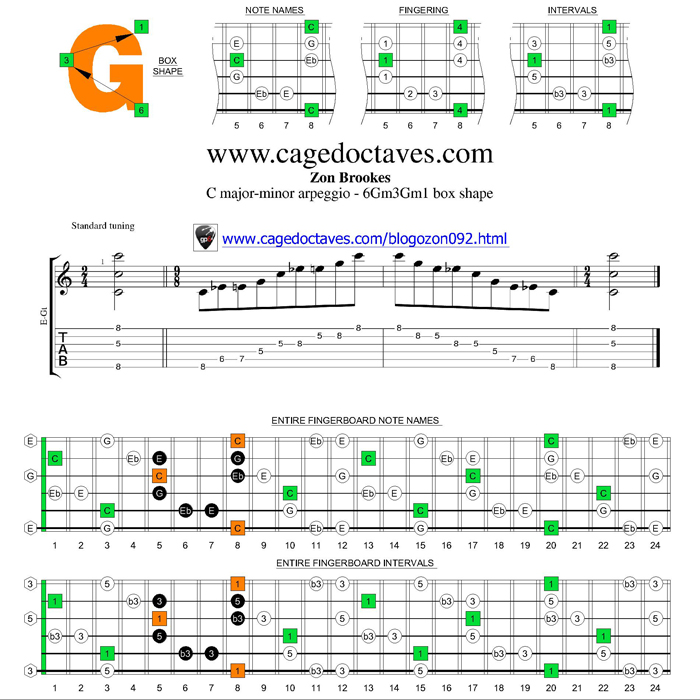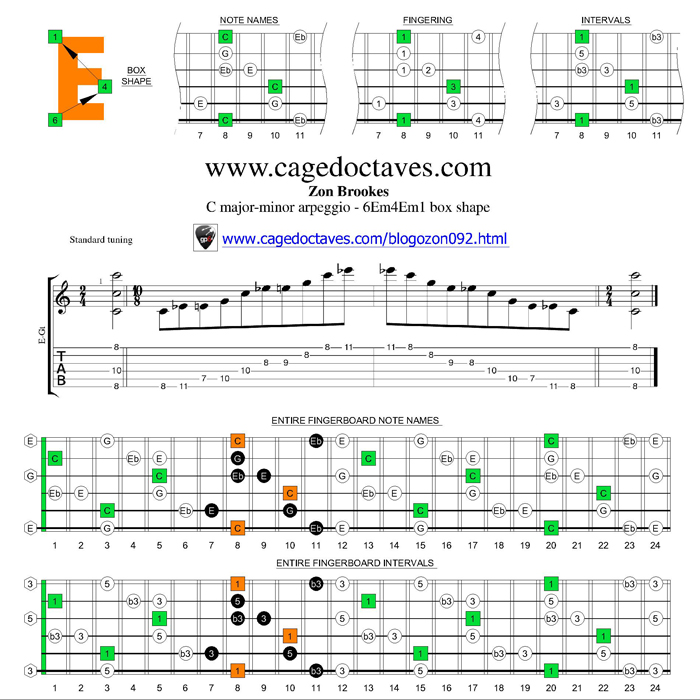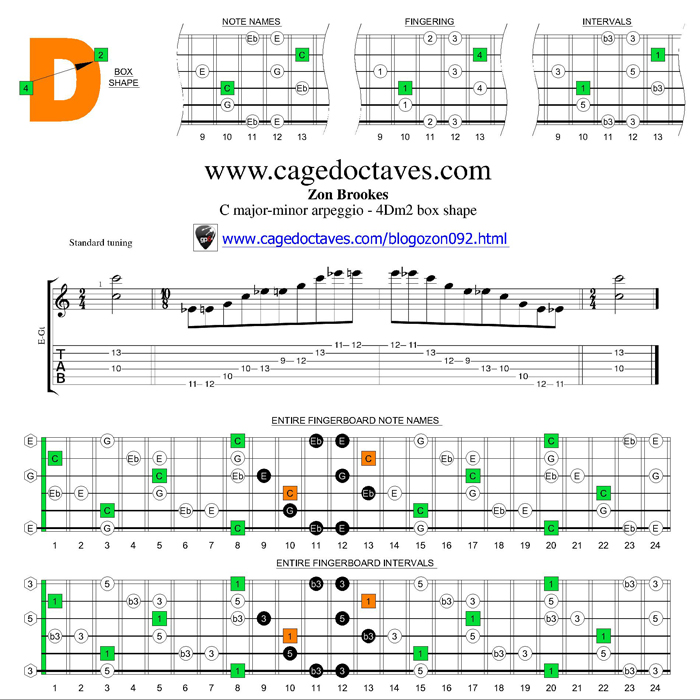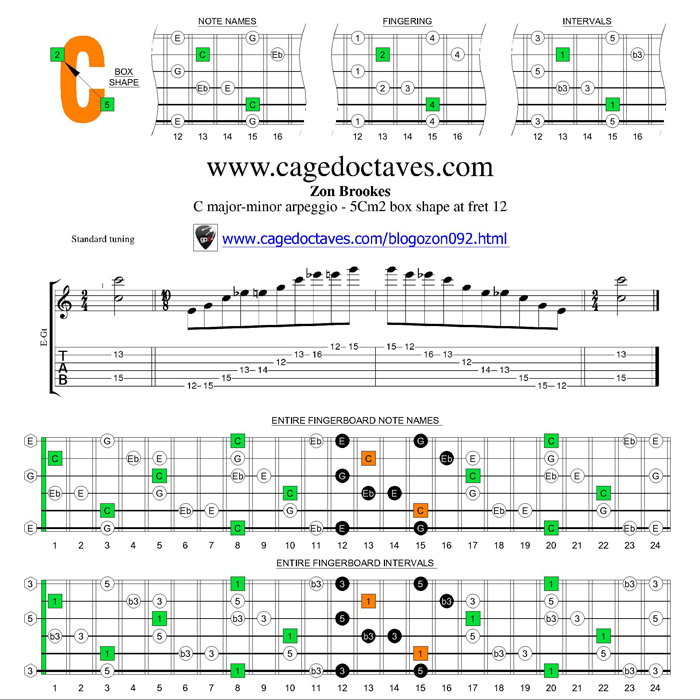 ---
---
Once the individual box shapes have been assimilated all five shapes should be linked together and played in one continuous exercise (with the first shape - 5C2 - being repeated at the 12th fret).

The video shown to the right demonstrates the CAGED octaves chain-linked sequence for the C major scale box shapes.
---
The complete TAB for the previous exercise follows:-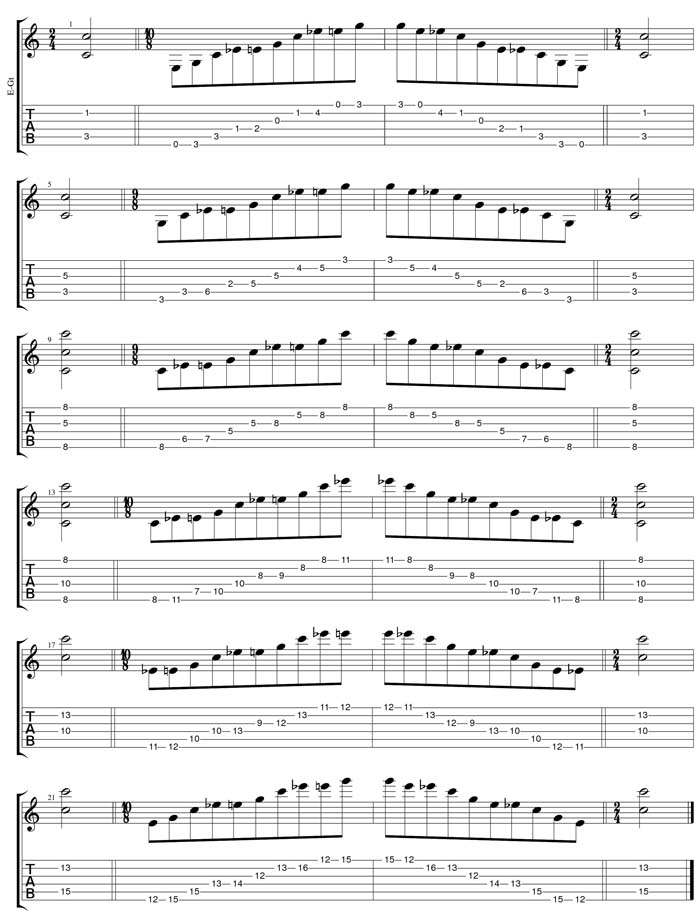 ---
The box shapes for the previous exercise follow:-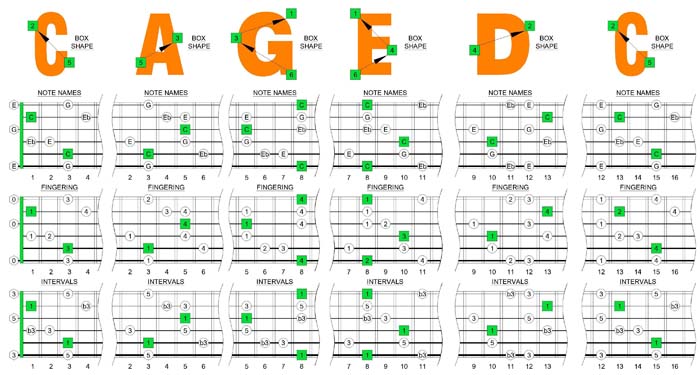 ---
---