Octave Method for 6-String Bass (Low B)
Major Scales & Arpeggios
---
eBook: Octave Method for 6-String Bass (Low B)

Fretboard navigation method for 6-String Bass
(Low B tuning) based on an instrument specific modification of the CAGED guitar method, using linked octave shapes rather than open position chord shapes for ease and simplicity of use
---
Book: Octave Method for Low B: 6-String Bass

Fretboard navigation method for Low B : 6-string bass based on an instrument specific modification of the CAGED guitar method, using linked octave shapes rather than open position chord shapes for ease and simplicity of use.
---
Bunny Brunel
Bunny Brunel is the Carvin endorsing 4, 5 and 6 string bassist.

Bunny Brunel Slap: Pulling strings to mimic slap sound

Bass Guitar Lesson #3: The Major Modes

Bass Guitar Lesson #4: C Major Positions

Bass Guitar Lesson #5: Ionian Exercises

Bass Guitar Lesson #6: Slapping Part 1

Bass Guitar Lesson #7: Slapping Part 2: Thumb Slap, Hammer
---
A minor-diminished arpegggio box shapes for 6 string bass

This issue demonstrates the A minor-diminished arpeggio box shape for 6-string bass with the all important orange letters omitted.
The CAGED octaves sequence is shown for A natural in the diagrams that follows:-


The diagrams that follow show all of the A minor-diminished arpeggio notes plotted over the 6-string bass' fretboard in both the

and CAGED octaves styles:-



NOTE:- The GuitarPro6 fingerboard for the A diminished arpeggio shows E♭'s enharmonic equivalent spelling D# (the augmented fourth interval name rather than the diminished fifth used elsewhere on this page).
GuitarPro6 will not display the notes for an A minor-diminished arpeggio hence the Am and Adim arpeggios are shown separately - sorry!
As always a more long term solution to fretboard navigation is to see scales/arpeggios as INTERVAL shapes rather than note names - as these are universal to all scales, arpeggios and chords rather than specific to one particular root note - with this in mind the intervals for the A minor-diminished arpeggio are detailed below in the CAGED octaves manner:-

The table and tabbed panel below details all five box shapes for the A minor-diminished arpeggio in the
CAGED octaves style.
---
6-string bass A minor-diminished arpegggio box shapes

---
---
4Zm2
5Zm2
5Zm3
6Zm3Zm1
6Zm4Zm1
4Zm2 at 12
---
---
4Zm2
5Zm2
5Zm3
6Zm3Zm1
6Zm4Zm1
4Zm2 at 12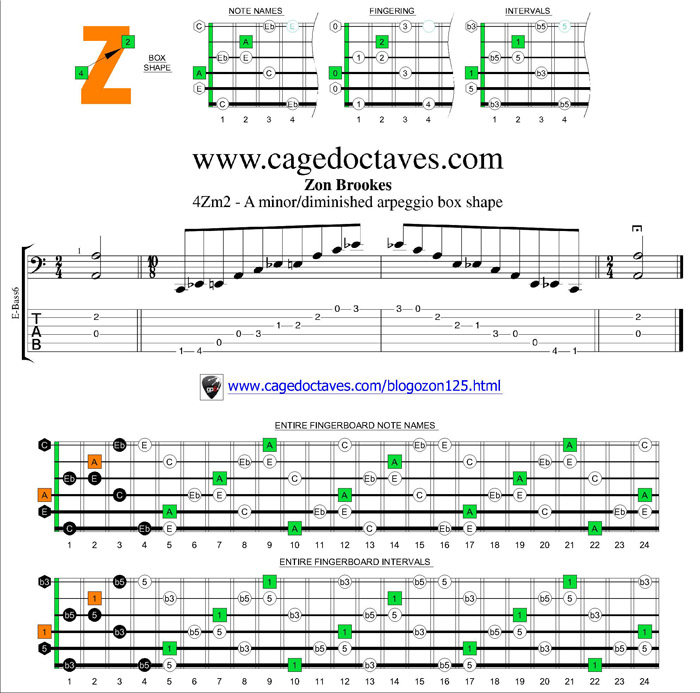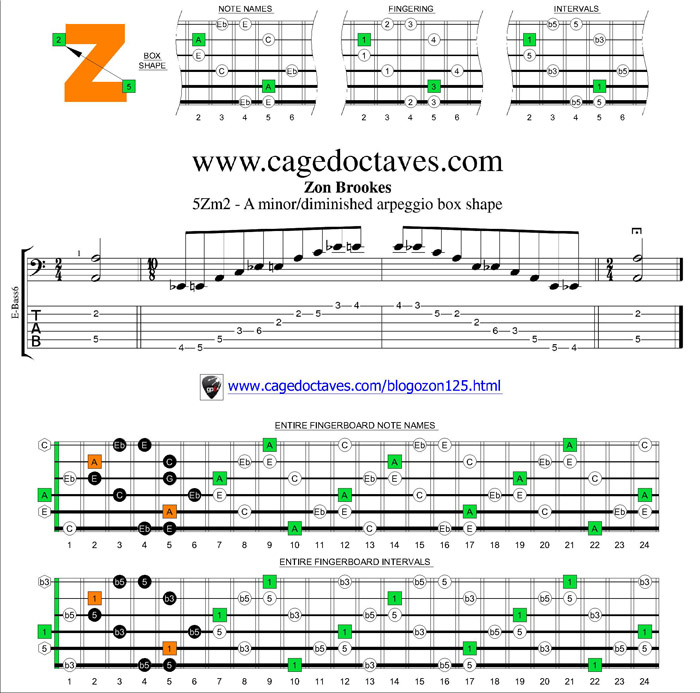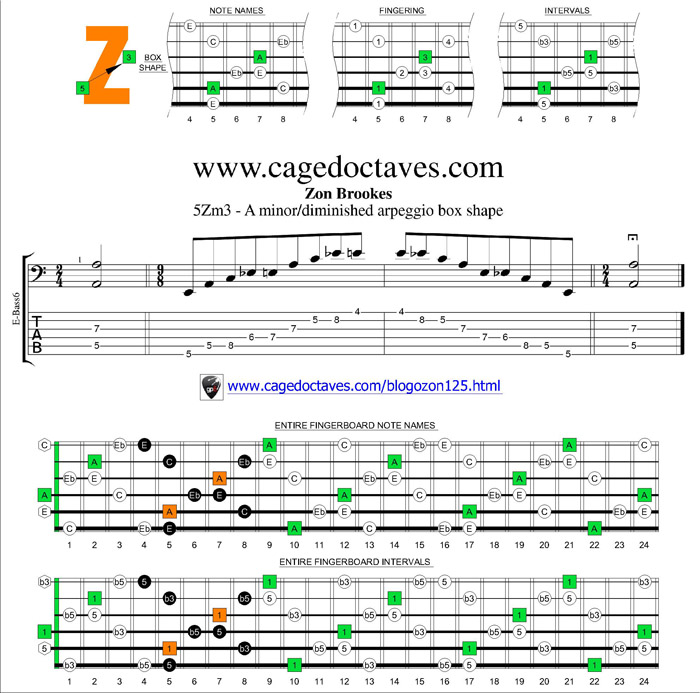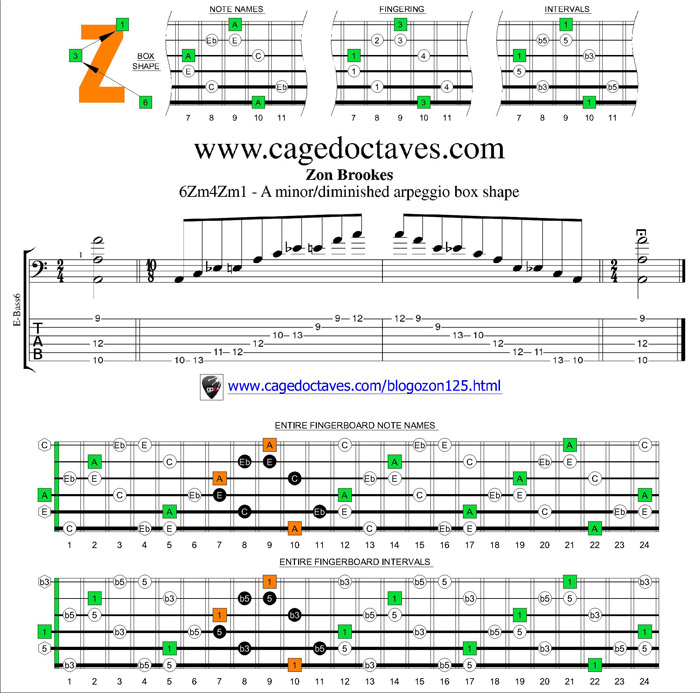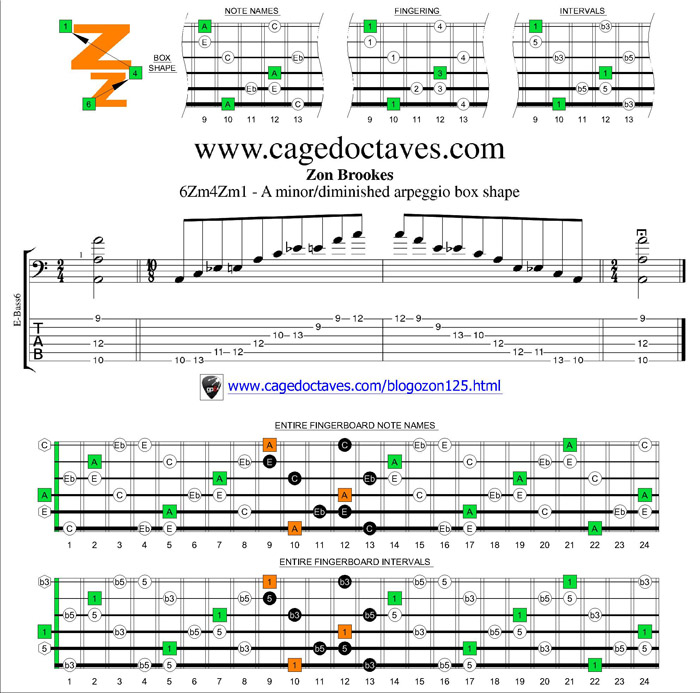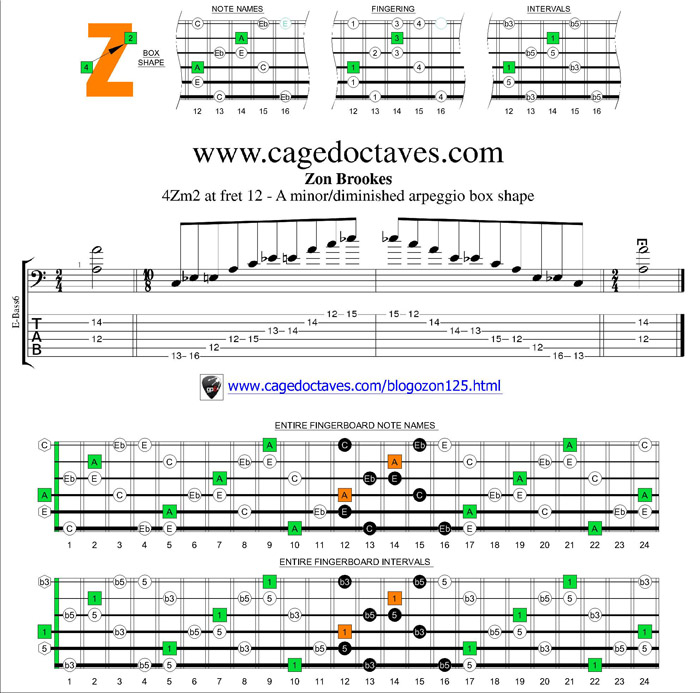 ---
---