Carvin Guitars Factory Tour - Autumn 2014
---
Zon Brookes prepares himself for the impending Carvin Guitars Factory Tour 2014.
The entrance to Carvin Guitars has palm trees and very large guitar graphics on the building face; a nice welcome in the autumnal California sunshine.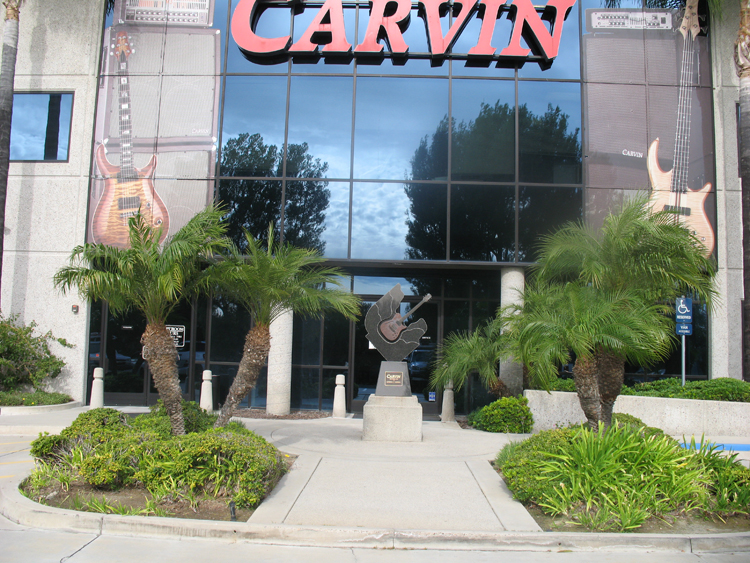 At the entrance to the Carvin factory a statue has been erected in tribute to the company's original owner and founder Lowell C. Kiesel.
| | |
| --- | --- |
| | Whilst waiting for Jeff Kiesel to conduct the tour of the factory there was time to admire the holiday decorations in reception. |
Carvin manufacture an assortment bolt-ons and glue-ins but their particular speciality is the through-neck or neck-through in Carvin-speak. Jeff Kiesel holds up an example of a 5-piece through-neck blank.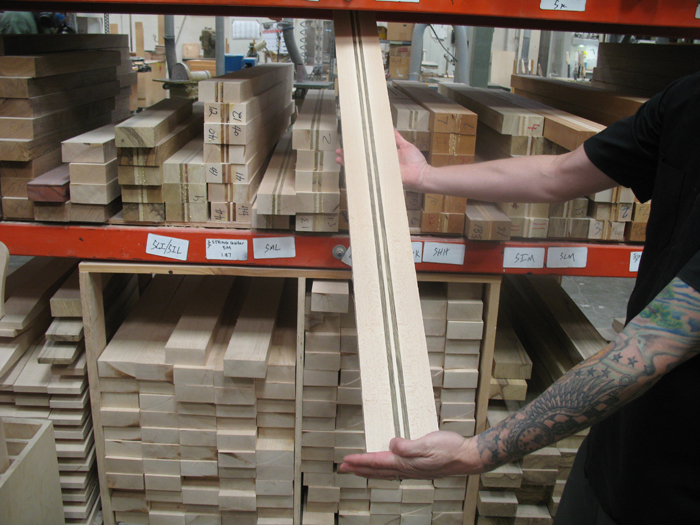 Pre-manufactured through-neck blanks are stored in racks ready to be used when specified by a particular customer in a guitar order. The 3-letter Carvin abbreviation code for particular neck specifications can be seen on the labels stuck to the racks.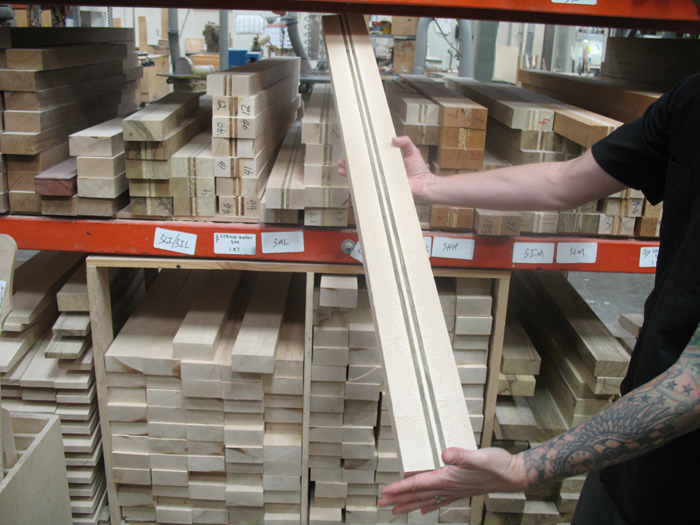 That days production of CNC machined through-necks is stacked against the neck/body storage racks ready for the next stage of production.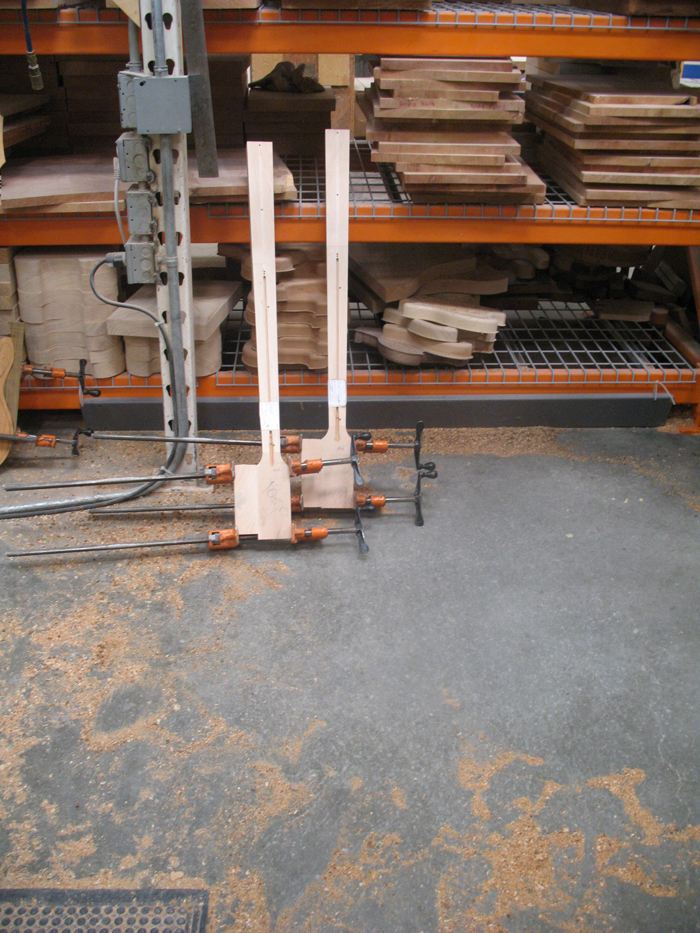 Jeff Kiesel holds up a band sawn body for a through neck 7-string guitar which is ready to be CNC machined; note that the frets, nut and truss rod have all been installed prior to final body shaping taking place (these tasks all being easier to carry out without the body wings being in the way).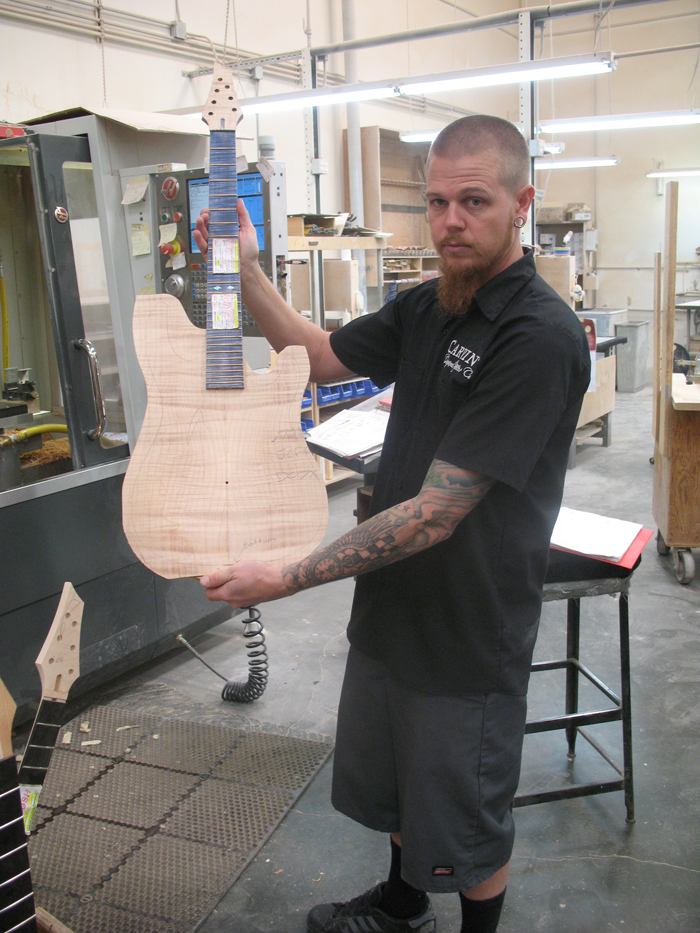 An employee fixes a neck-through guitar (face down) to the bed of the CNC router prior to machining.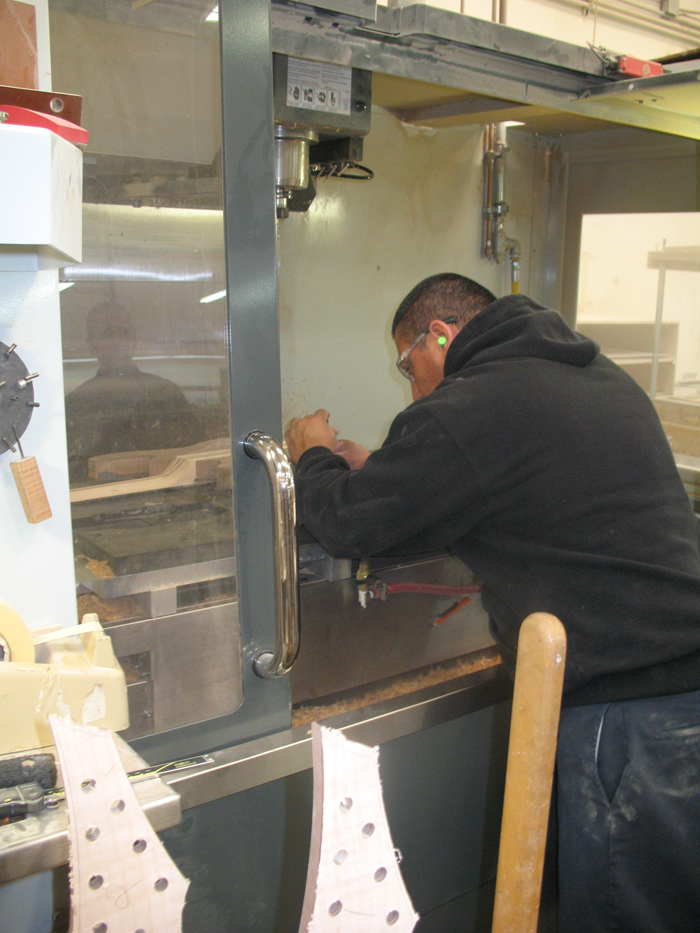 Jeff Kiesel holds up a CNC machined neck to show the level of finish achieved by the router before any hand sanding takes place.
Truss rods are bought-in by Carvin and all are dual action; Jeff Kiesel reported that only one truss rod failure has ever taken place on a production guitar (with the type shown in the picture below).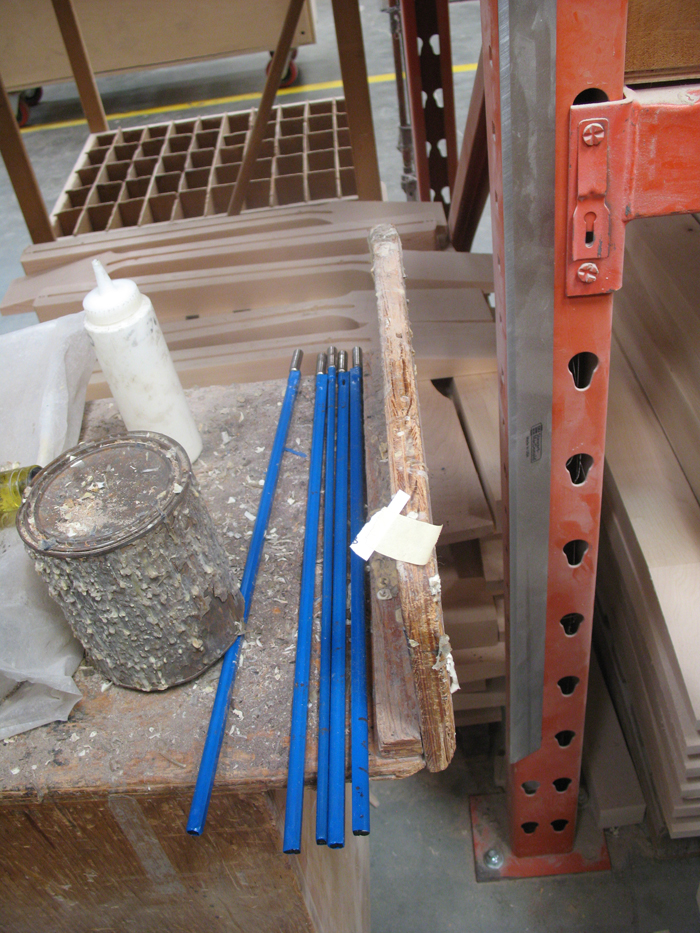 The truss rod is installed into the neck blanks and they are stored in purpose made compartmentalised boxes to await fretting.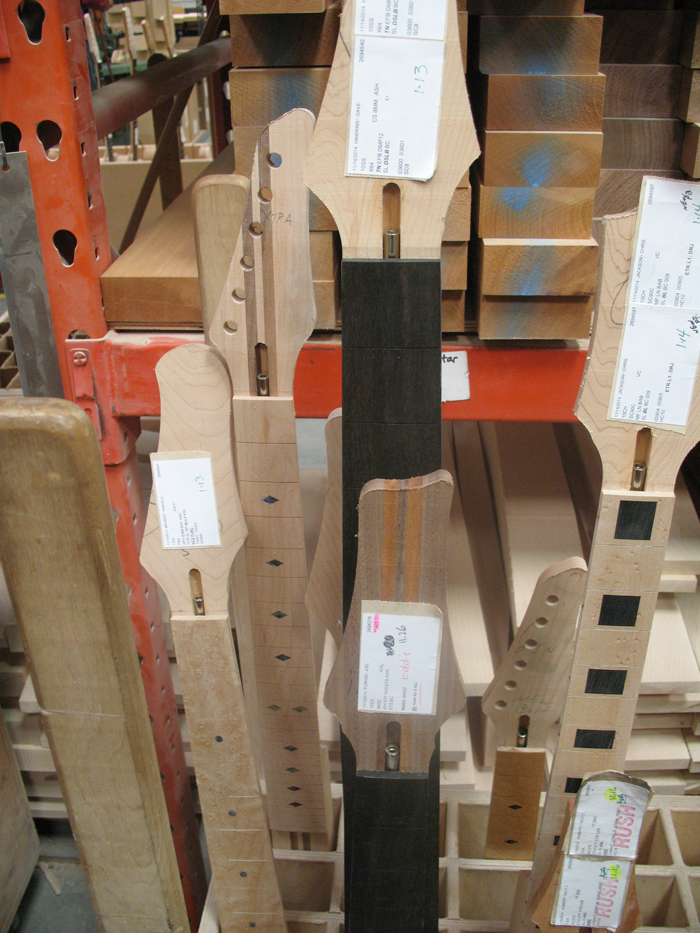 The customer specified frets are installed individually (without glue : unlike CF Martin and Taylor; whose factories were both toured on this visit to the US) using the hand operated fret press below.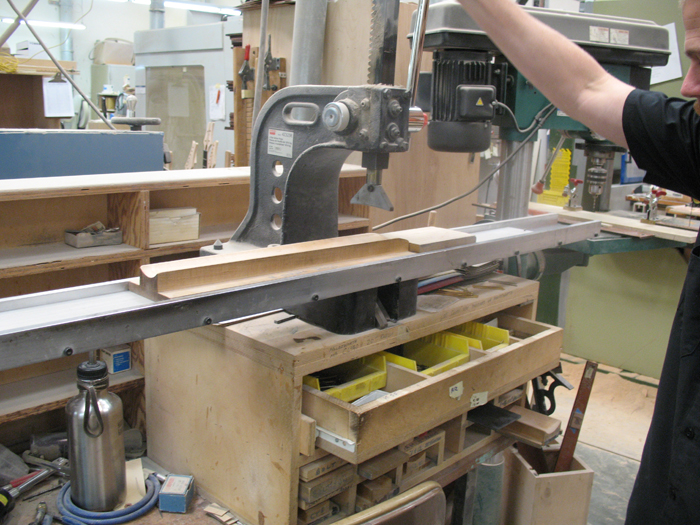 After fretting the neck blanks are once again stored in purpose made compartmentalised boxes to await side dot installation (if specified by the customer).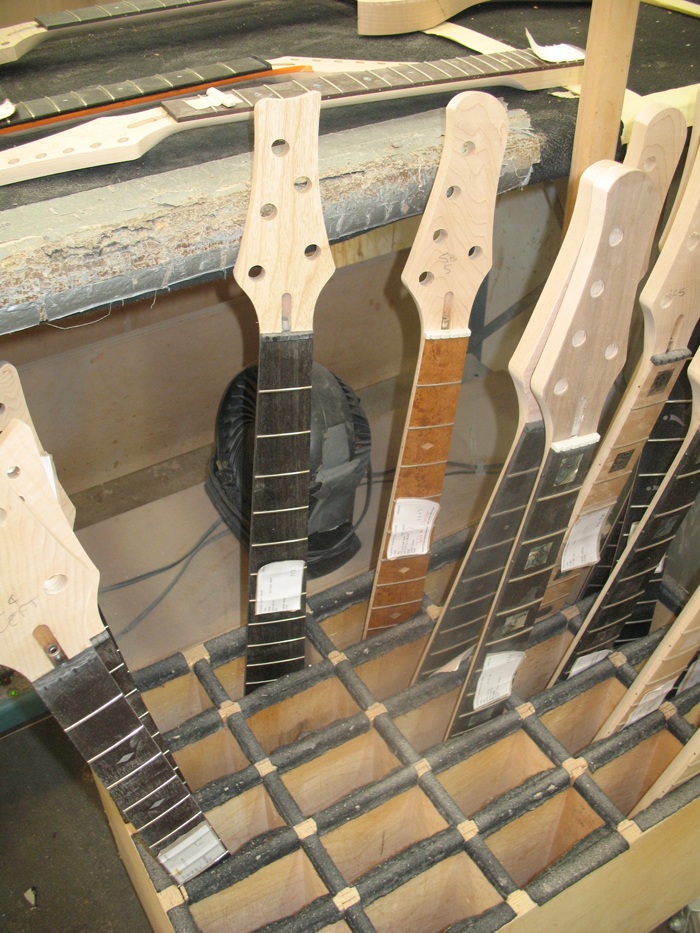 Side dots are installed by hand using hot glue (as shown below).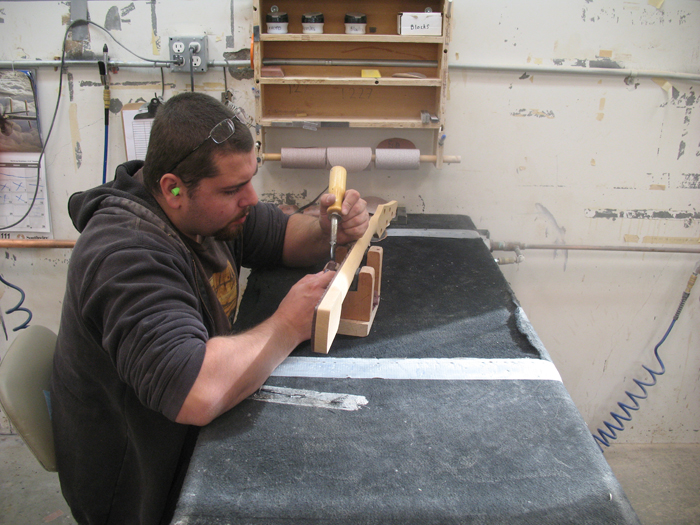 The CNC machine not only routes the body shape to precise tolerances (in this case for a Floyd Rose bridge), it also pre-drills holes for the pick-up mounting screws.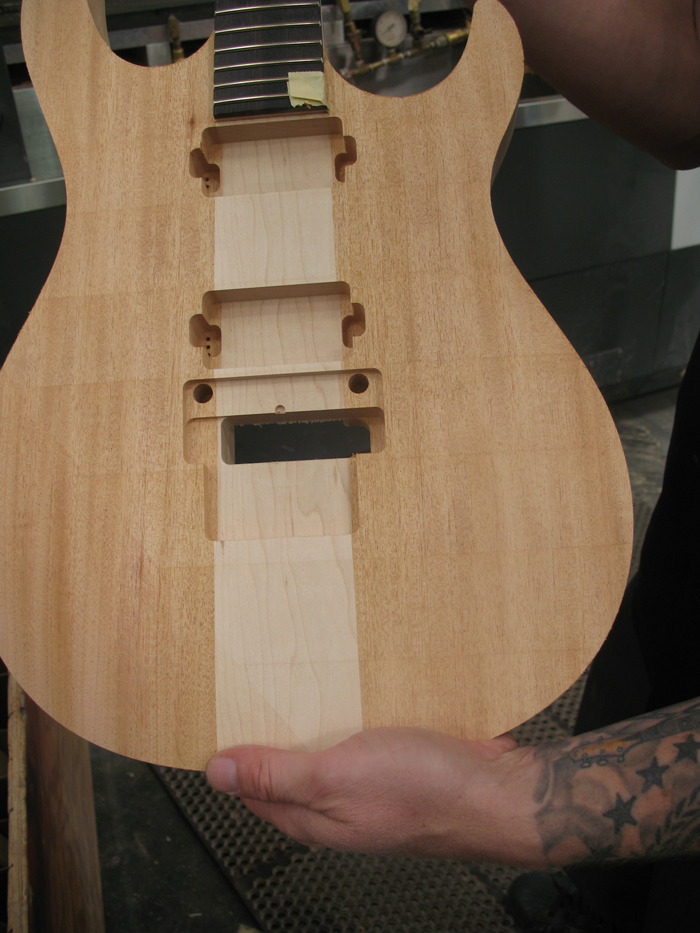 Final body sanding (prior to the specified finish being applied) is carried out by hand.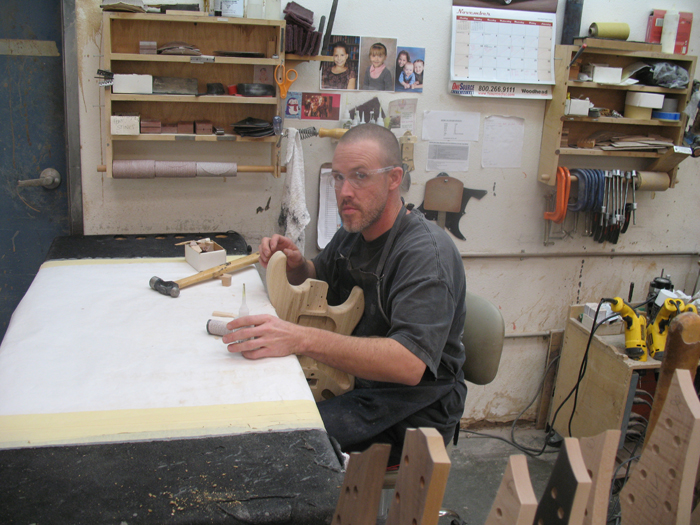 A very wide variety of top woods and finishes is available for specification by customers. The on-site store has a coloured swatch board to illustate a number of those available for specification.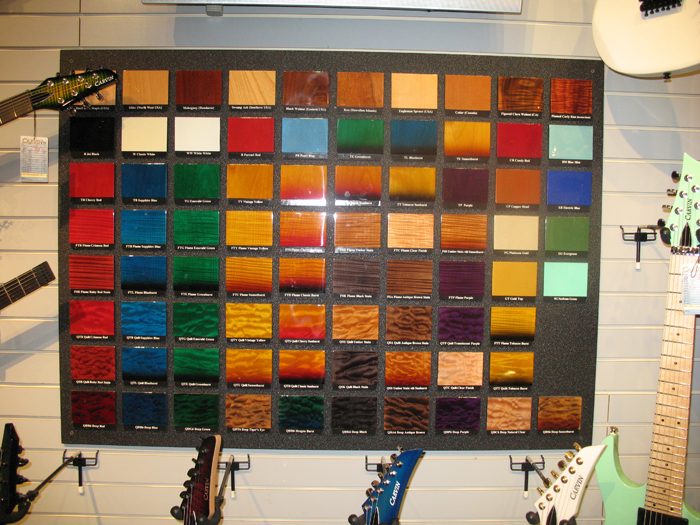 The complex nature of the finishes available necessitates time consuming hand masking of both necks and fingerboards; below the painter's masking tape is removed by hand from a fingerboard.
Again unlike CF Martin and Taylor bodies are still polished by hand using motorised buffing wheels.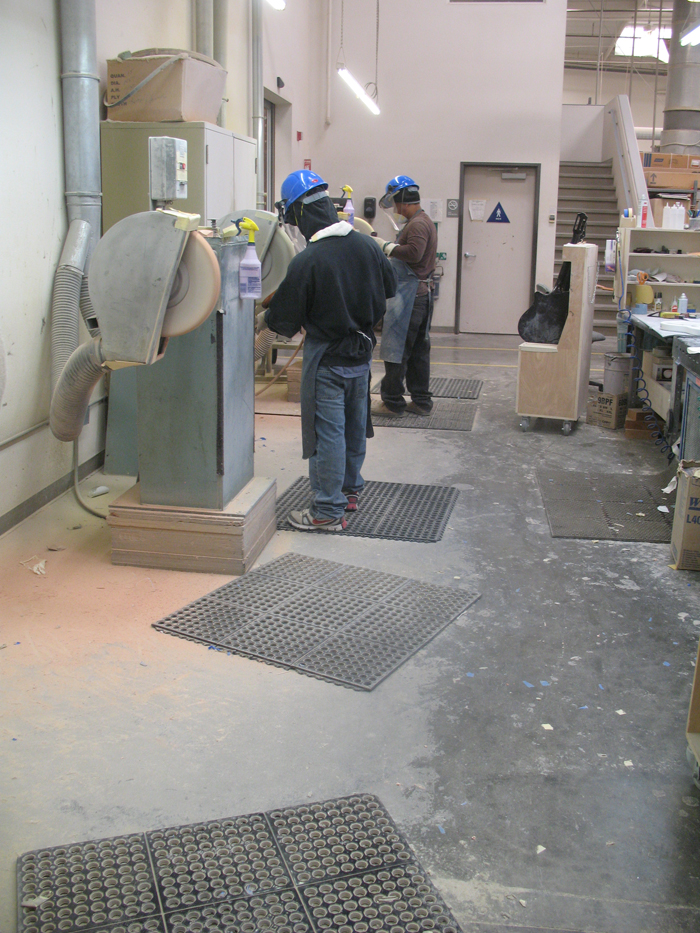 Whilst on the tour the specially priced and specified 7-string guitars were being manufactured for the GuitarPorn.com customers.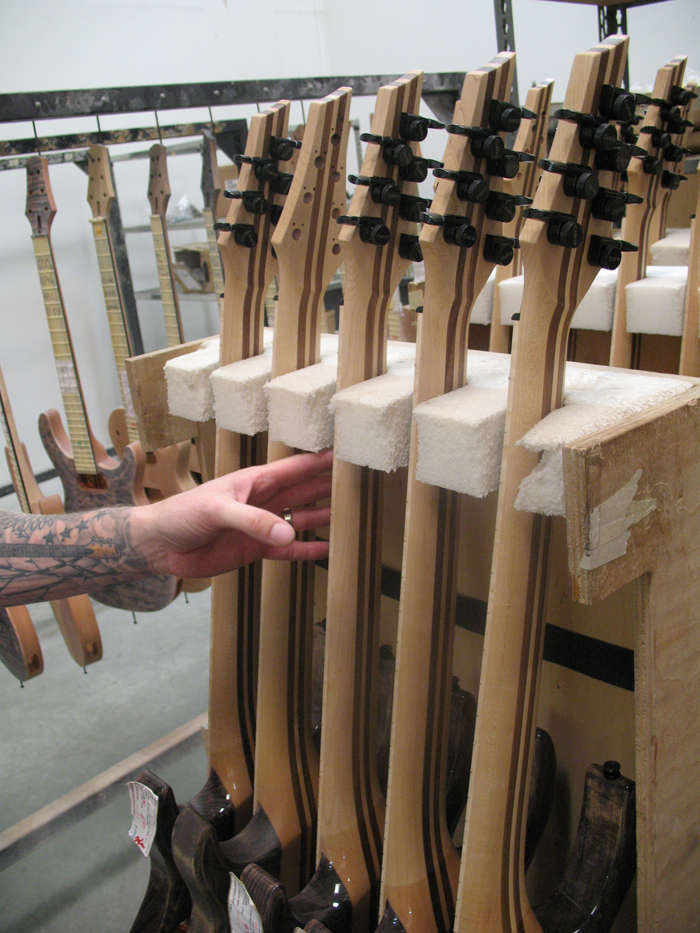 Jeff Kiesel holds up an example of a glued-in neck for inspection.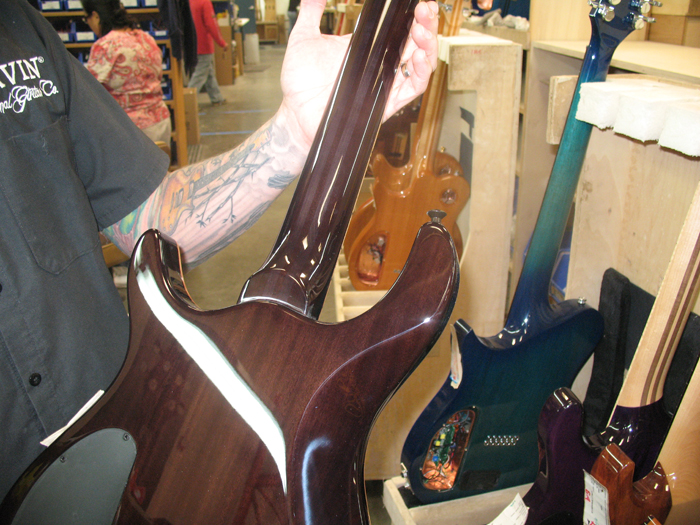 Extremely ornate wood is available for top and back wood specification with the finish of choice to complete the customer's instrument.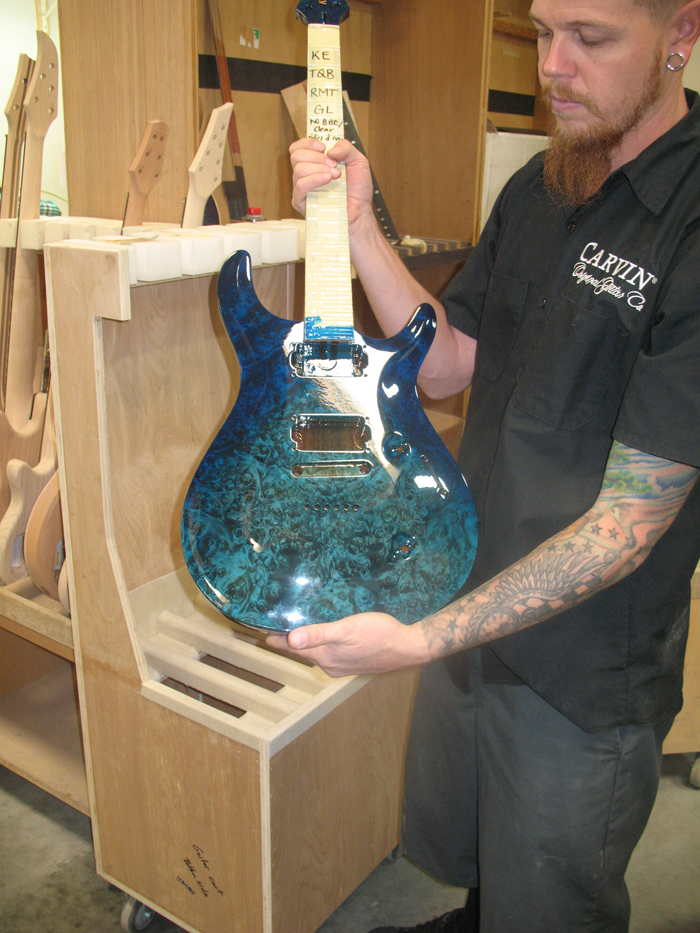 The back can match the front if so desired.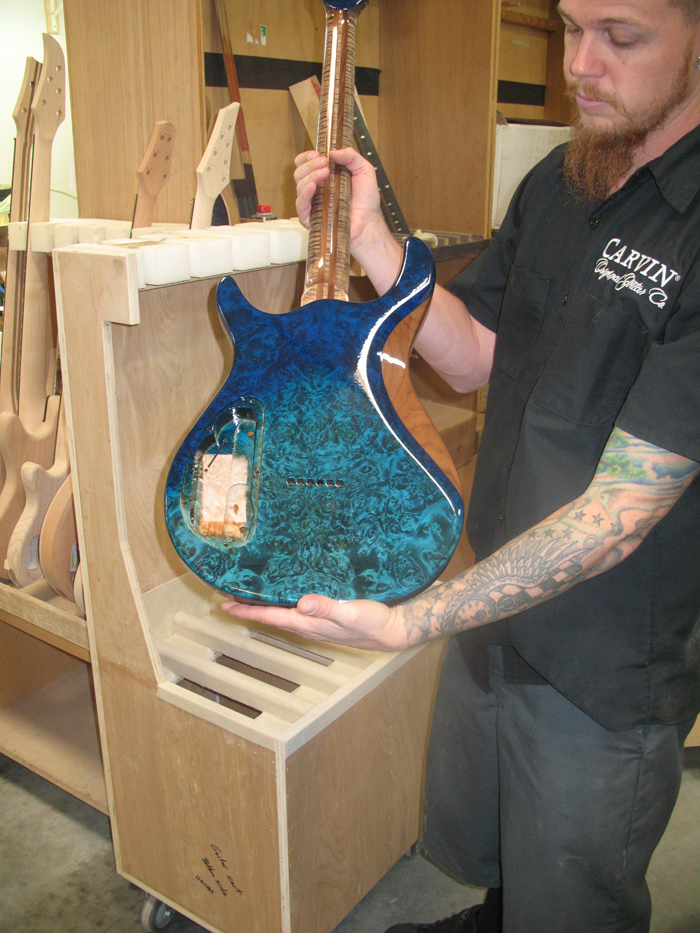 Jeff Kiesel was extremely proud of the coloured fretboard treatment that he has developed solely for Carvin's use; below he displays a green coloured fretboard to match the ornate quilted maple top.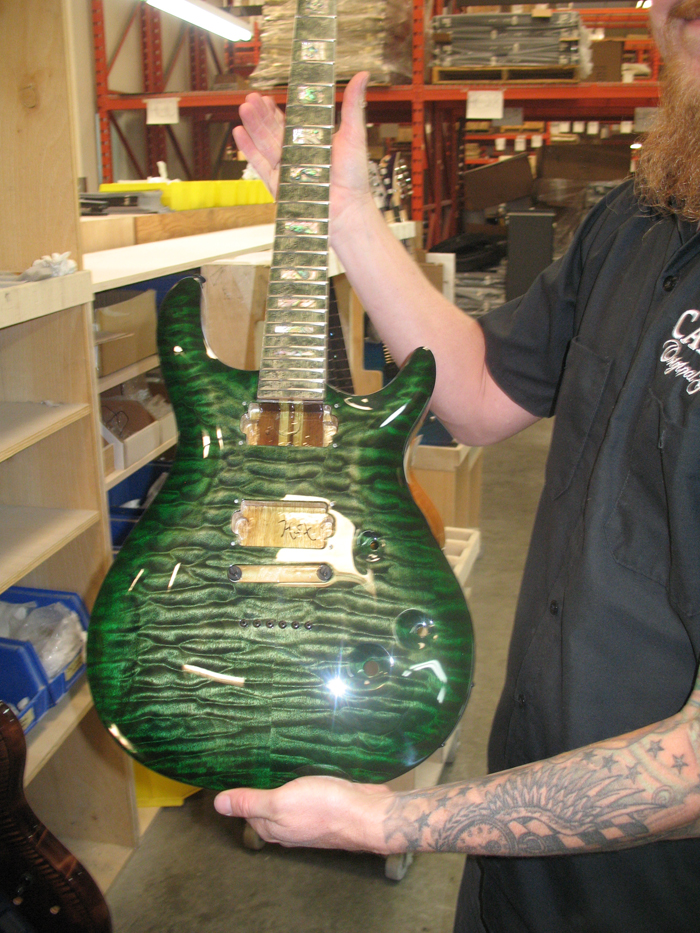 Standard wood coloured fretboards are still available if coloured ones don't float your boat.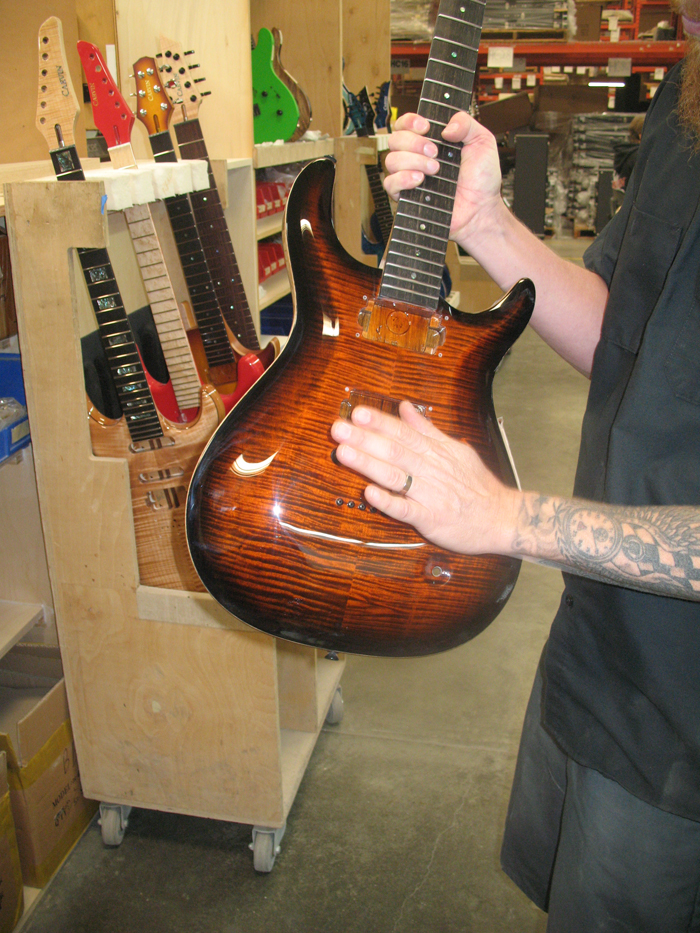 Jeff Kiesel shows off one of his blue coloured fretboards; this time with a flamed maple top and headstock.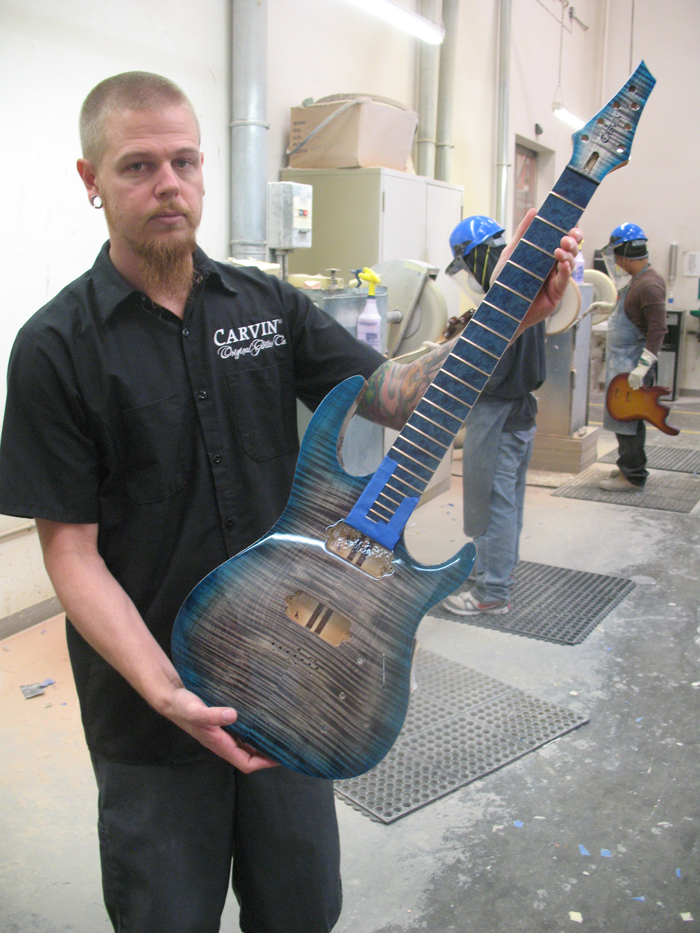 Control cavities are all lined with gold conductive material and threaded inserts are used for control cavity screw holes for both instrument longevity and ease of removal post production (very nice quality touches).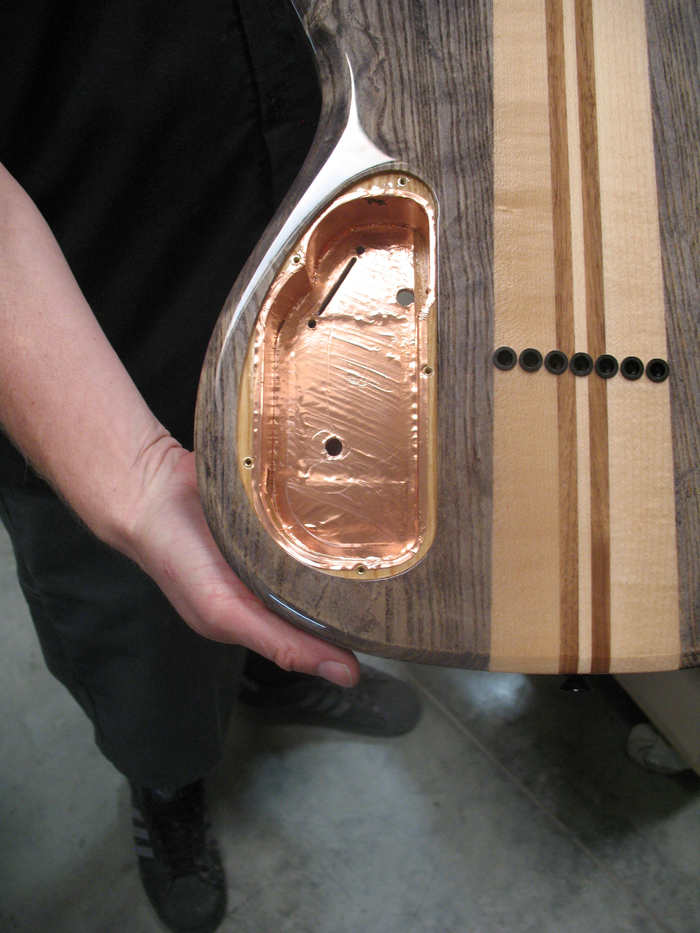 Both active and passive pick-ups are made at Carvin; these can be purchased separately or specified as part your own instrument.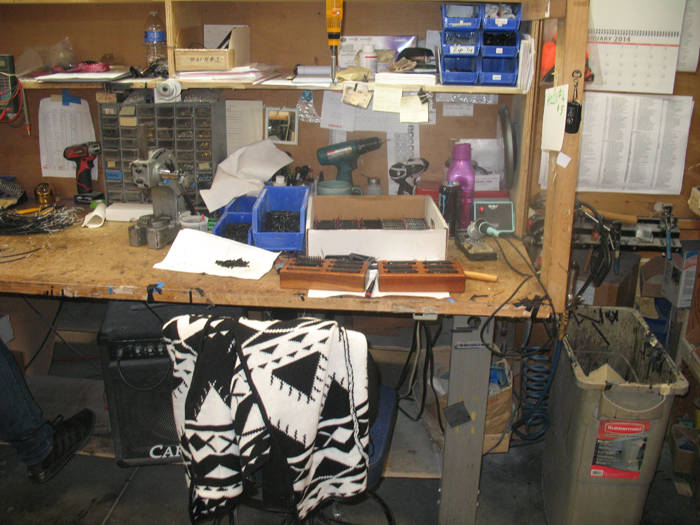 In final assembly the strings are added and exery thing is given the once over.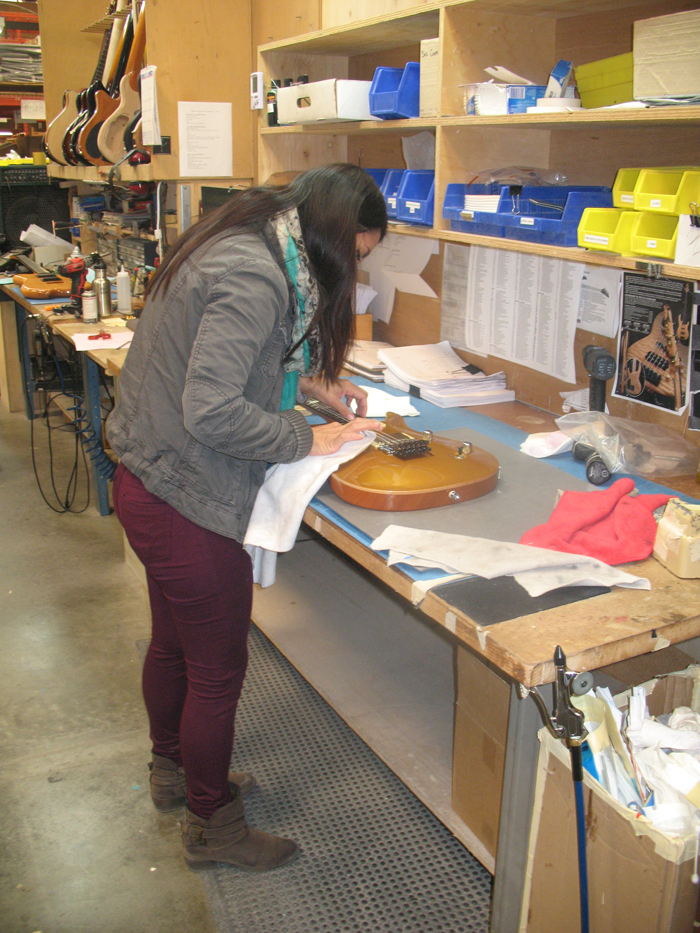 If you don't fancy specifying and waiting for your own dream guitar to be manufactured by Carvin their on site store has a wide selection of pre-made instruments for purchase at the usual direct from the factory prices. On display at the store are two of the very first 8-string guitars that Jeff Kiesel designed and manufacted at Carvin (one with the Carvin patented coloured fretboard treatment).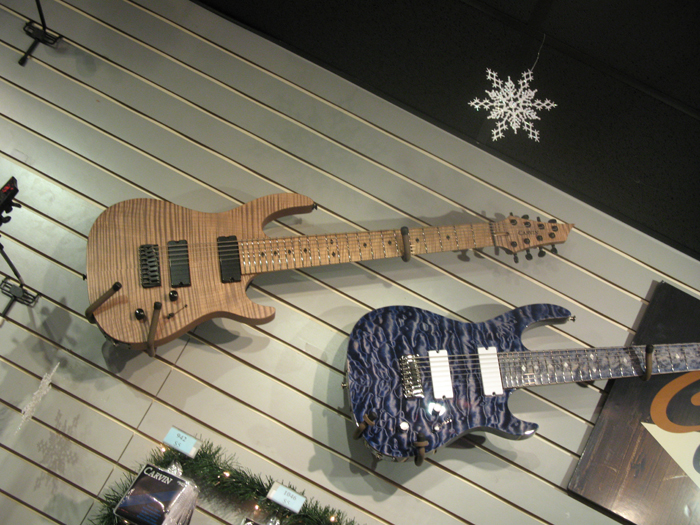 Not only do Carvin make a huge selection of guitars they also make a large number of basses. On display in the store is a 6-string fretless bass with Jeff Kiesel's coloured fretboard treatment, expensive and for those with discerning taste only.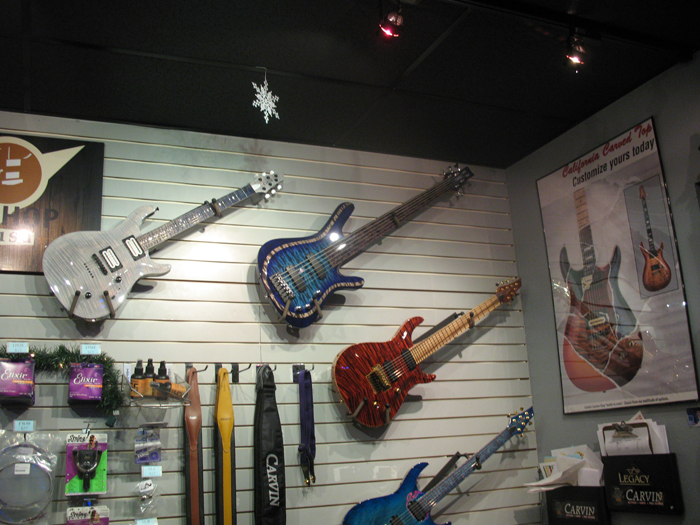 A big thank you to Jeff Kiesel for taking the time-out from his very busy life to show me around the guitar making making part of his Carvin factory and I wish him all the success in the world for his guitar building future. And thanks to Flock (the store manager) for selling me a very nice DC700C.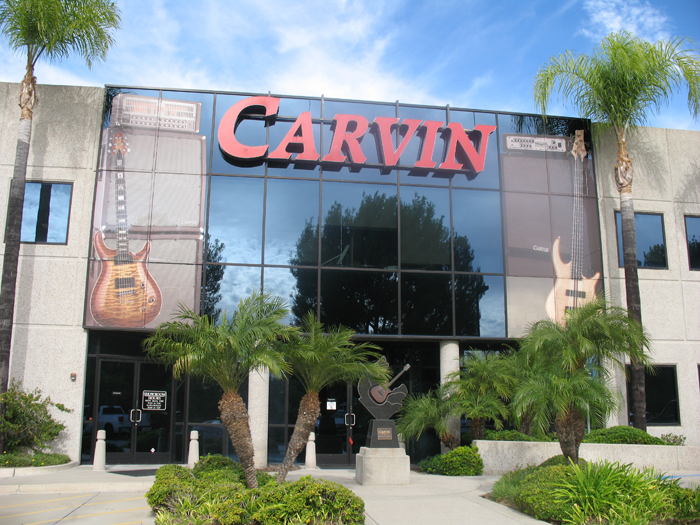 ---