Robert White
Robert White was the soulful guitarist with Motown House Band The Funk Brothers.

The Temptations & the Funk Brothers in studio session rehearsal (1967)
---
My Girl - pentatonic major scale based riff
Although the 1964 mega hit single My Girl was written by William Smokey Robinson and Ronald White the real hero of the piece for guitar players is virtual unknown Robert White.
White was one of Motown's house band guitarists (also known as the Funk Brothers; for more information goto the Standing in the Shadows of Motown website).
Whilst playing with his thumbnail White created the ultimate PENTATONIC MAJOR scale based guitar riff.
The riff follows the chords C major and F major - spending one measure (bar) on each.
As the chords change the PENTATONIC MAJOR scale is played from root note to the octave (with eigth notes being used througout - apart from the root note which is played for the length of a dotted quarter note).
The fretboard diagrams that follow show the notes used for the riff - highlighted for both the C major and F major pentatonic scales.


---
C pentatonic major scale box shapes
The easiest example of the C pentatonic major scale is rooted on C natural, hence the CAGED octaves sequence is shown for C natural in the diagram that follows:-


The diagram that follows shows all of the C pentatonic major scale notes plotted over the 6-string guitar's
fretboard in both the

and CAGED octaves styles:-


A more long term solution to fretboard navigation is to see scales/modes/arpeggios as INTERVAL shapes rather than note names - as these are universal to all scales, modes, arpeggios and chords rather than specific to one particular root note - with this in mind the intervals for the C pentatonic major scale are detailed below in the CAGED octaves manner:-

All scales have an underlying triad - 3 note chord - that defines their tonality.
In the case of the C pentatonic major scale this the C major arpeggio - hence the notes for an C major triad are shown the CAGED octaves style in the next diagram.

Similarly the intervals forming a C major arpeggio are shown next:-

The C major arpeggio box shapes are explored in detail in BLOGoZON No.28.
The table and tabbed panel below detail all five box shapes for the C pentatonic major scale in the
CAGED octaves style.
---
CAGED octaves - C pentatonic major scale box shapes

---
5C2
5A3
6G3G1
6E4E1
4D2
5C2 at 12
---
5C2
5A3
6G3G1
6E4E1
4D2
5C2 at 12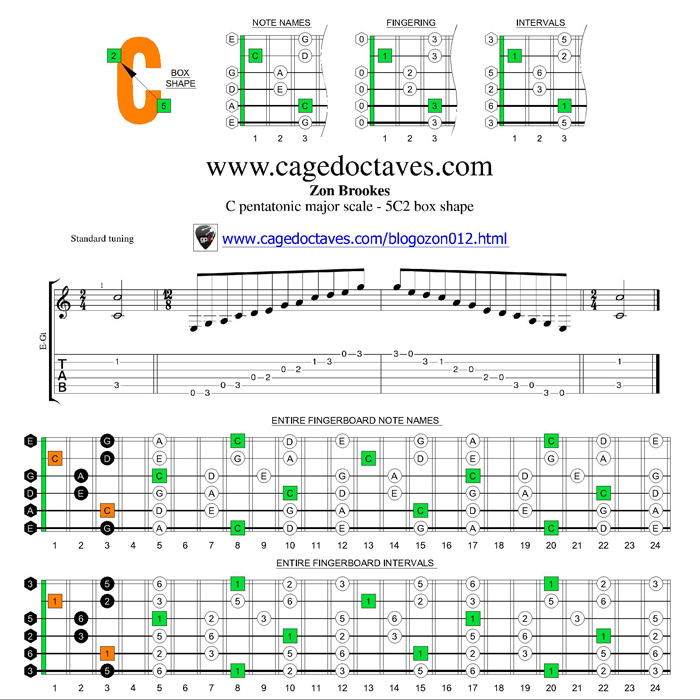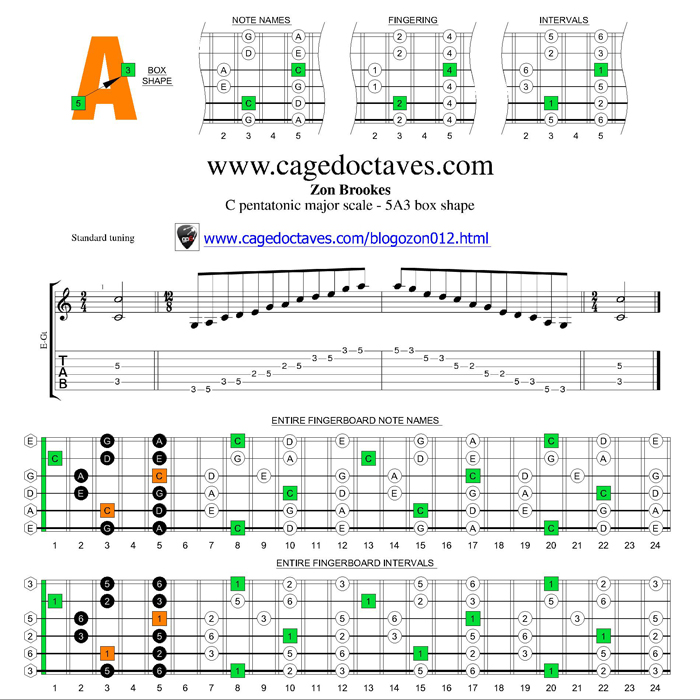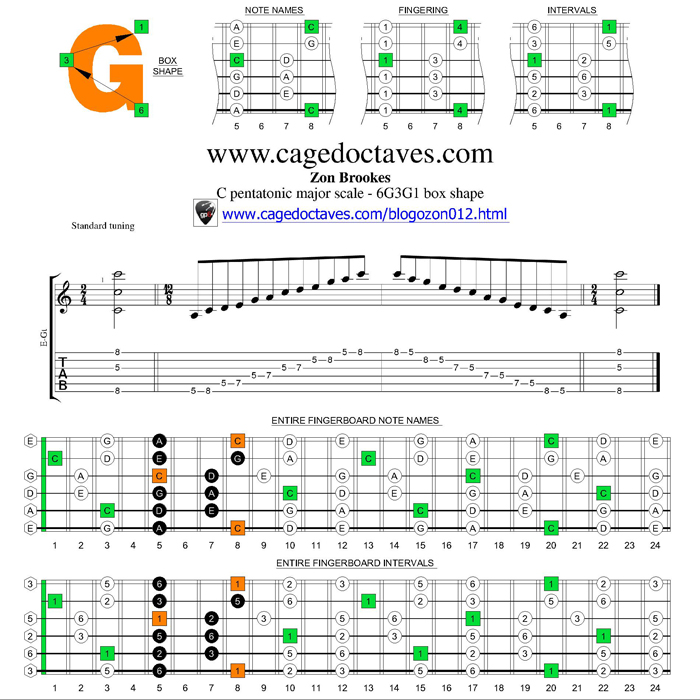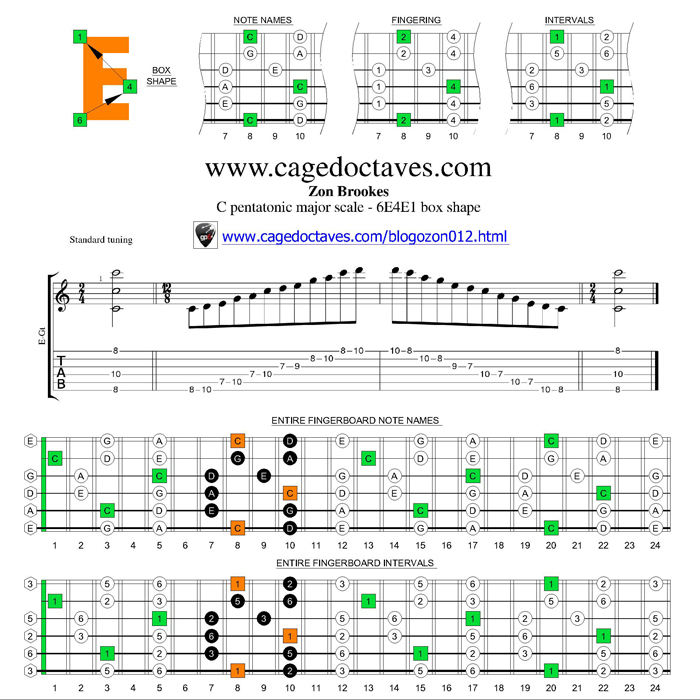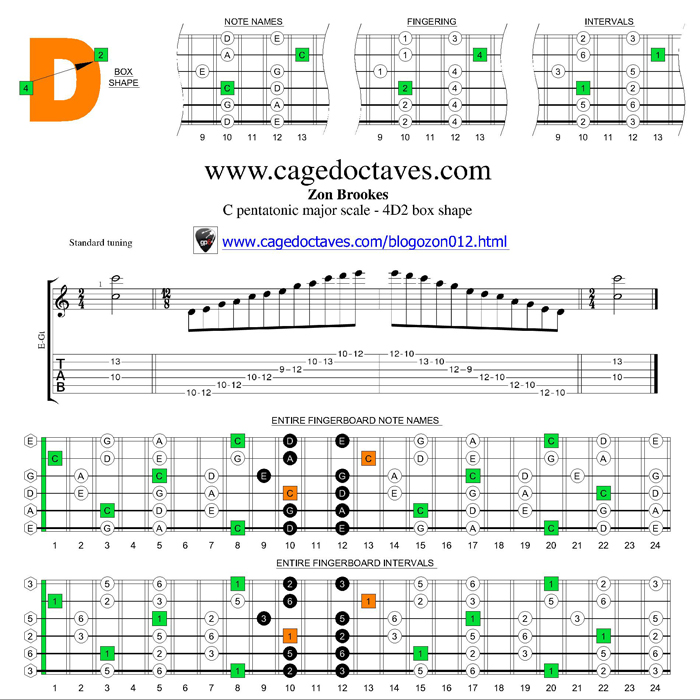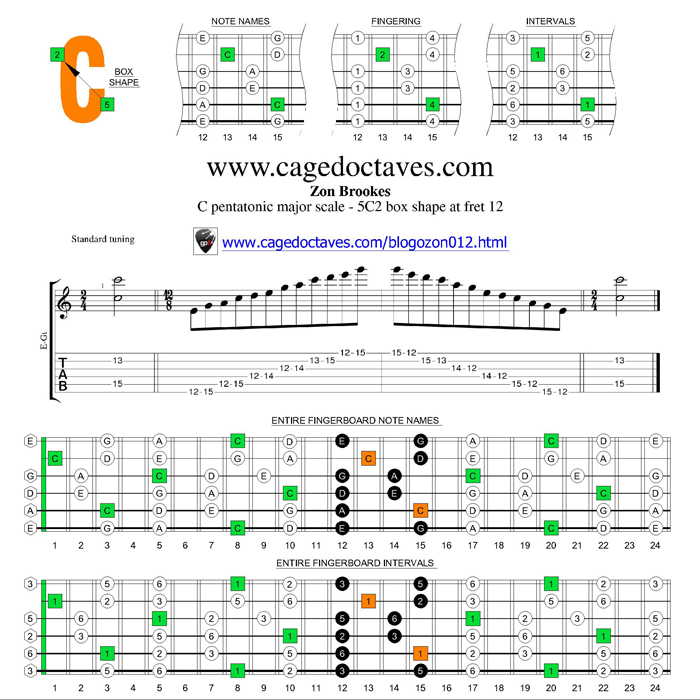 ---
---