Jimmy Page
Jimmy Page & Robert Plant Interview NY 1970

Jimmy Page solo on acoustic guitar
---
Heartbreaker - Led Zeppelin
Out of the ashes of the Yard Birds sprang Led Zeppelin powered by the genius of Mr Jimmy Page with his exceptional compositional, improvisational and recording skills.
The Heartbreaker riff from the album Led Zeppelin II released in 1969 uses the A and B blues scales - with some major-minor ambiguity thrown in for good measure courtesy of some semi-tone and blues bends.
The fretboard diagrams that follow show the notes used for the riff - highlighted from both the A and B blues scales.


---
A minor blues scale box shapes

This issue demonstrates the BLUES SCALE - sometimes confused with the pentatonic minor scale (which forms five sixths of the scale, the remaining note being the DIMINISHED FIFTH - flat five - b5).
The AGEDC octaves sequence is shown for A natural in the diagram that follows:-


The diagrams that follow show all of the A blues scale notes plotted over the 6-string guitar's
fretboard in both the

and AGEDC octaves styles:-

NOTE:- The GuitarPro6 fingerboard shows Eb's enharmonic equivalent spelling D# (the augmented fourth interval name rather than the diminished fifth used elsewhere on this page).

As always a more long term solution to fretboard navigation is to see scales/arpeggios as INTERVAL shapes rather than note names - as these are universal to all scales, arpeggios and chords rather than specific to one particular root note - with this in mind the intervals for the A minor blues scale are detailed below for the 6-string guitar in the AGEDC octaves manner:-
The table and tabbed panel below details all five box shapes for the A minor blues scale for the
6-string guitar in the AGEDC octaves style.
---
6 string guitar - A minor blues scale box shapes

---
5Am3
6Gm3Gm1
6Em4Em1
4Dm2
5Cm2
5Am3 at 12
---
5Am3
6Gm3Gm1
6Em4Em1
4Dm2
5Cm2
5Am3 at 12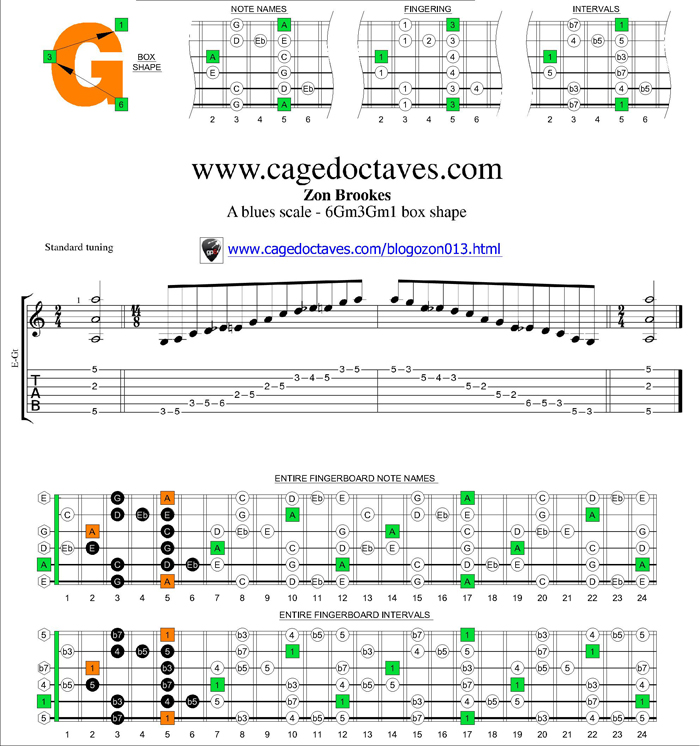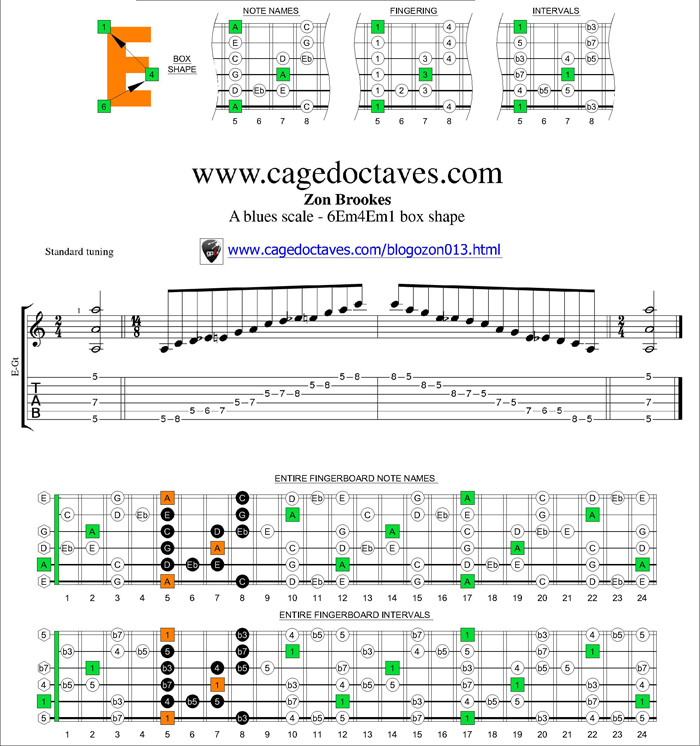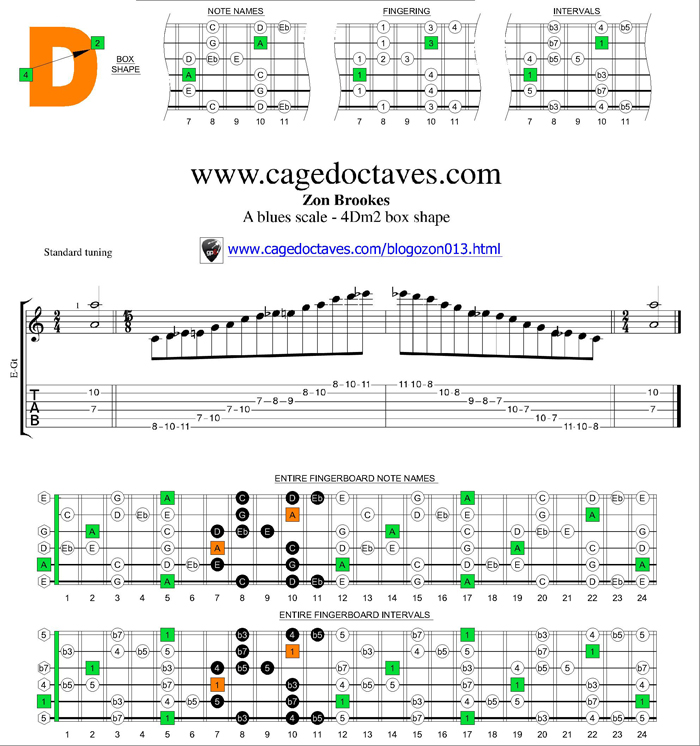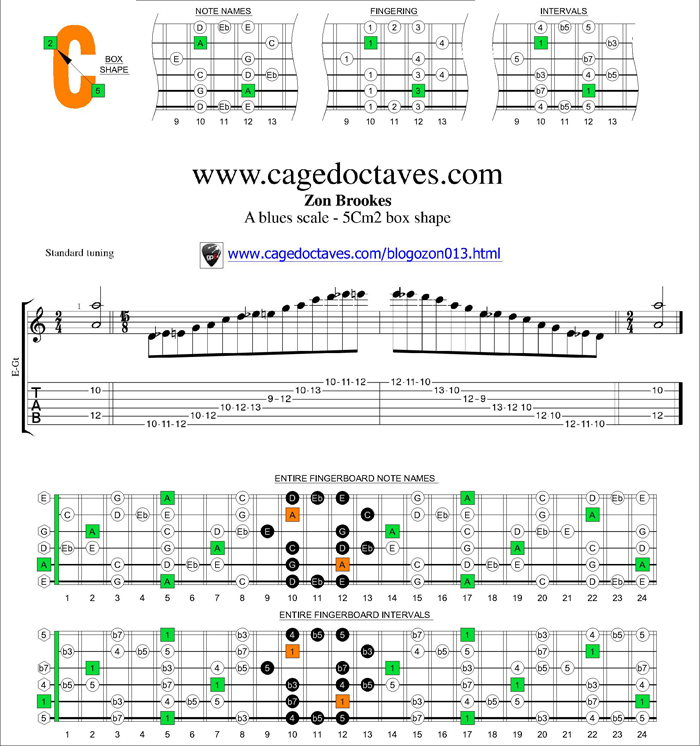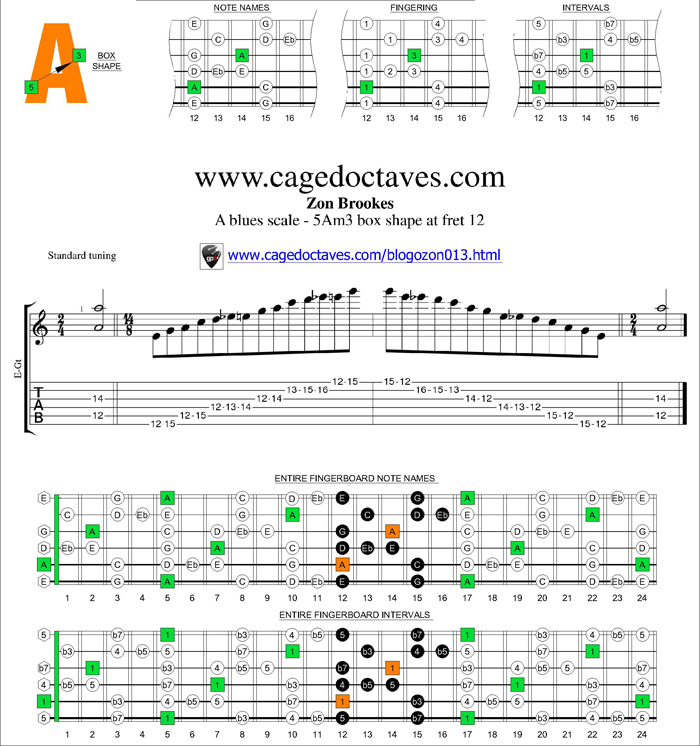 ---
---