Octave Method for Low E : 4-String Bass
Major Scales & Arpeggios
---
CAGED4BASS 4-String Bass Octave Method eBook

A method for 4-string bass guitar using linked octave shapes. Enables systematic navigation of the bass guitar fingerboard for standard and 3 notes per string scale and arpeggio box shapes.
---
Book: Octave Method for Low E: 4-string bass

Fretboard navigation method for Low B : 5-string bass based on an instrument specific modification of the CAGED guitar method, using linked octave shapes rather than open position chord shapes for ease and simplicity of use.
---
Marcus Miller
Luther Vandross - Never Too Much (Live)

Luther Vandross - A House is not a Home (Live)

Luther Vandross -Give Me The Reason (Live)

Luther Vandross - So Amazing (Live)

Grammy winner Marcus Miller is the extraordinarily talented bassist and session player whose best work can be heard with the late soul vocalist and song writing partner Luther Vandross.

Hal Leonard produce a Best of Marcus Miller transcription book from their Bass Recorded Versions series plus a concert DVD, lesson book and jazz composition book.

Shown in the photograph above is the Marcus Miller Jazz bass produced by Fender.
---

This BLOGoZON builds on the foundation laid in BLOGoZON No.34 where the CAGED4BASS memorisation method - designed specifically for the 4-string bass guitar - was introduced for the first time.

The next diagram details the CAGED4BASS octave shapes for C natural:-



The life-blood of harmonically rich players such as Marcus Miller is the ARPEGGIO - which offers the perfect ingredients for bass-line creation - the diagram that follows shows the C major arpeggio notes plotted over the entire fretboard in the CAGED4BASS style:-

A more long term solution to fretboard navigation is to see arpeggios as INTERVAL shapes rather than note names - as these are universal to all arpeggios/chords rather than specific to one particular root note - with this in mind the intervals for the C major arpeggio are detailed below in the CAGED4BASS manner:-

The table and tabbed panel below detail all five arpeggio box shapes for C major in the CAGED4BASS style.
---
CAGED4BASS - C major arpeggio box shapes
---
3C*
3A1
4G1
4E2
2D*
3C* at 12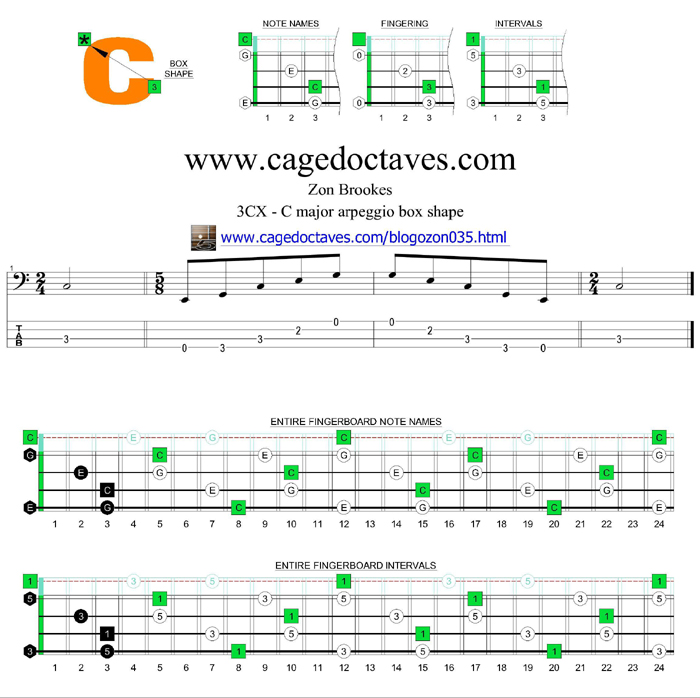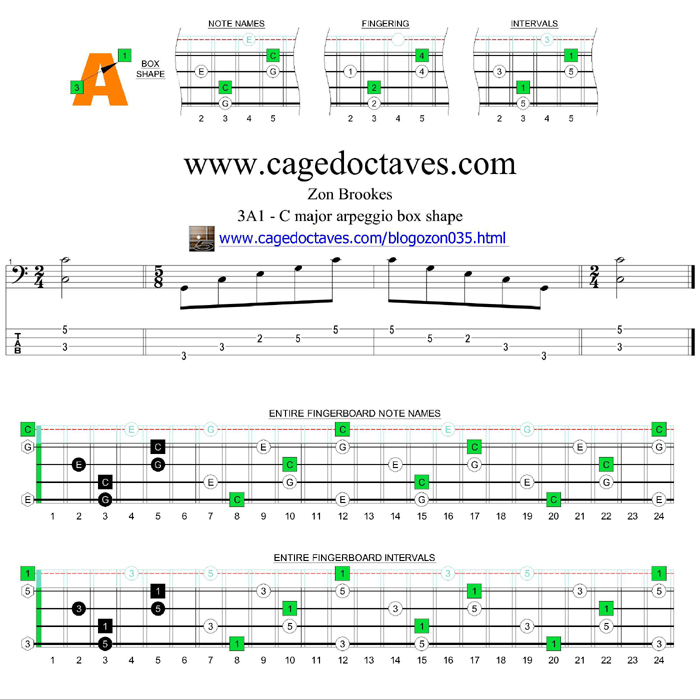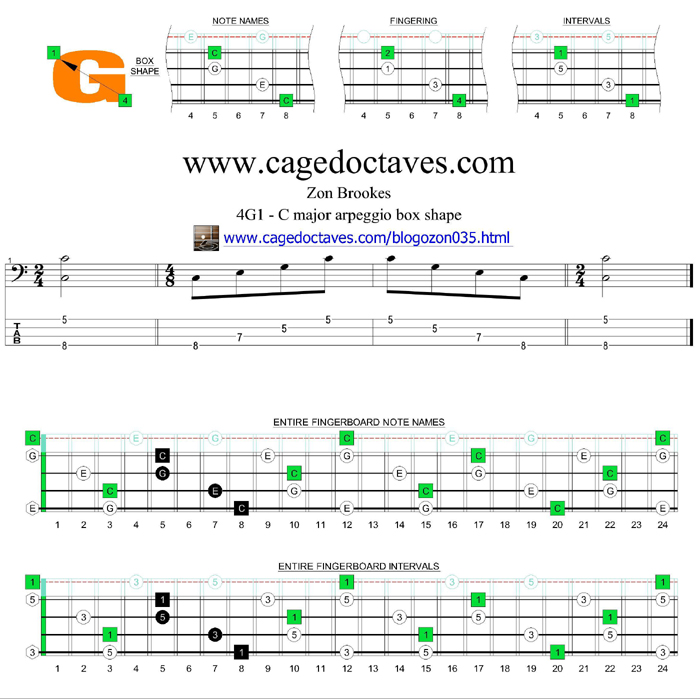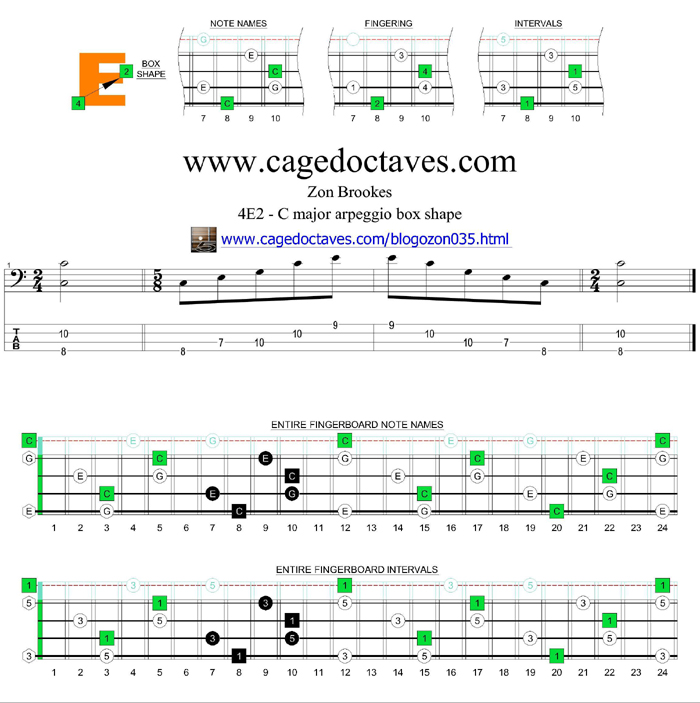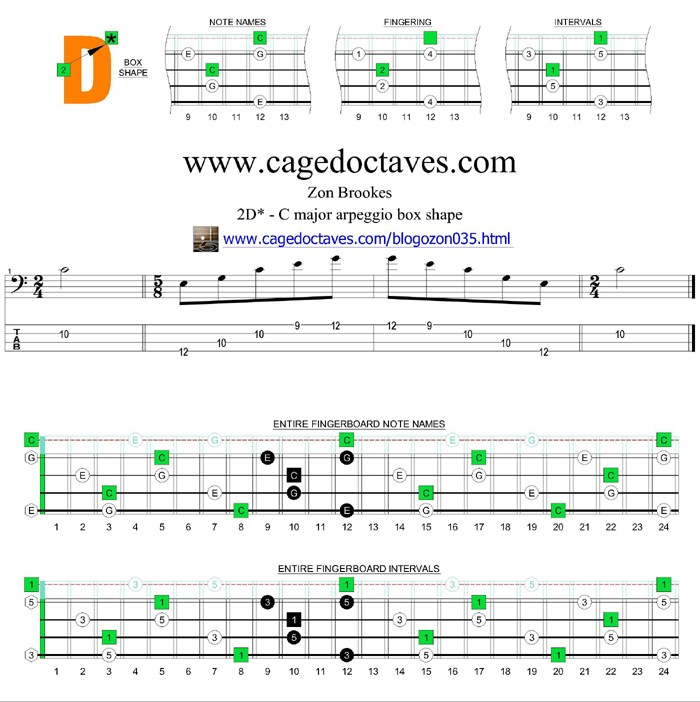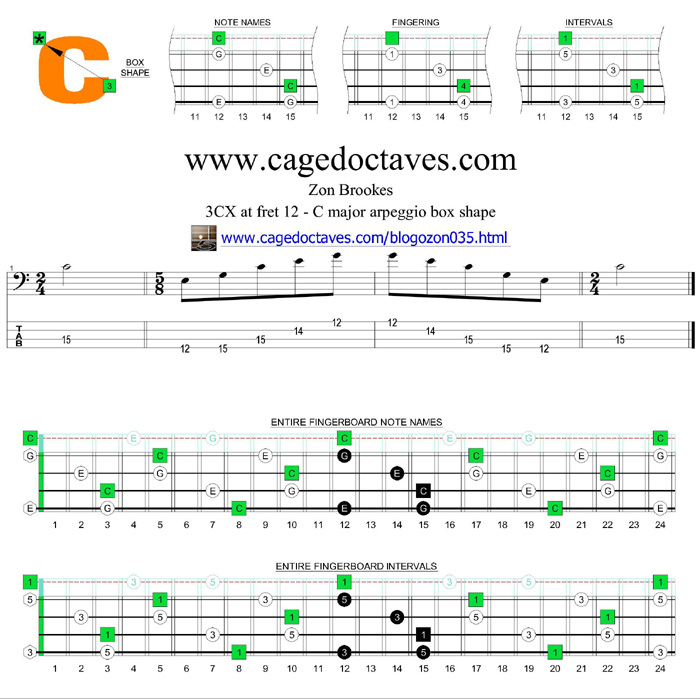 ---
---