Octave Method for Low E : 4-String Bass
Major Scales & Arpeggios
---
CAGED4BASS 4-String Bass Octave Method eBook

A method for 4-string bass guitar using linked octave shapes. Enables systematic navigation of the bass guitar fingerboard for standard and 3 notes per string scale and arpeggio box shapes.
---
Book: Octave Method for Low E: 4-string bass

Fretboard navigation method for Low B : 5-string bass based on an instrument specific modification of the CAGED guitar method, using linked octave shapes rather than open position chord shapes for ease and simplicity of use.
---
Stuart Zender
Jamiroquai - Blow Your Mind (London 1994)

Jamiroquai - Blow your mind (Tokyo 1993)

Jamiroquai - Too young to die (london 1995)

Stuart Zender is best known as the bassist and co-founder of the acid-jazz-band Jamiroquai.

Faber Music produce a Jamiroquai compilation song book called High Times Singles 1992-2006.


Warwick currently produce a Stuart Zender signature series bass - shown below.
---
AGEDC4BASS - A minor arpeggio box shapes

In BLOGoZON No.34 and BLOGoZON No.35 the C major scale and C major arpeggios were demonstrated using the CAGED4BASS memorisation method - designed specifically for the 4-string bass guitar.
Similarly BLOGoZON No.36 demonstrated the AGEDC4BASS memorisation method for the A natural minor scale box shapes - this BLOGoZON completes the quartet with the details of the A minor arpeggio box shapes.

Repeated from BLOGoZON No.36 the next diagram details the AGEDC4BASS octave shapes for an A natural note:-



Providing the backbone of the NATURAL MINOR SCALE is the minor arpeggio and the two should ideally be practiced together.

The diagram that follows shows all of the A minor arpeggio notes plotted over the entire fretboard for the 4-string bass guitar in the AGEDC4BASS style:-

Again a more long term solution to fretboard navigation is to see scales/arpeggios as INTERVAL shapes rather than note names - as these are universal to all scales, arpeggios and chords rather than specific to one particular root note - with this in mind the intervals for the A minor arpeggio are detailed below in the AGEDC4BASS manner:-

The table and tabbed panel below detail all five box shapes for an A minor arpeggio in the AGEDC4BASS style.
---
AGEDC4BASS - A minor arpeggio box shapes
---
3Am1
4Gm1
4Em2
2Dm*
3Cm*
3Am1 at 12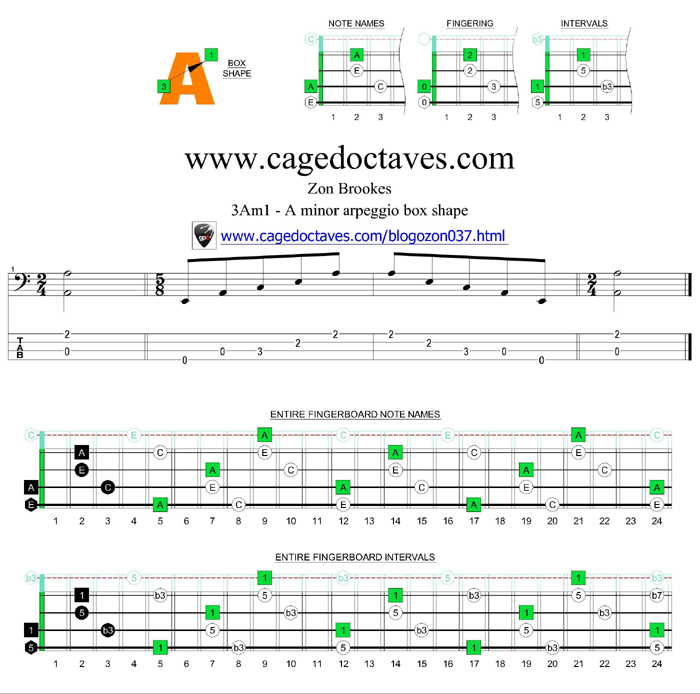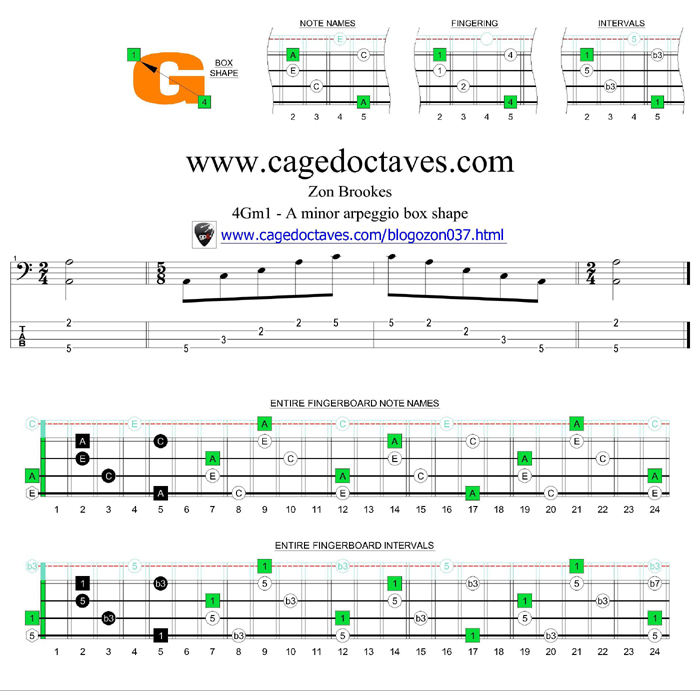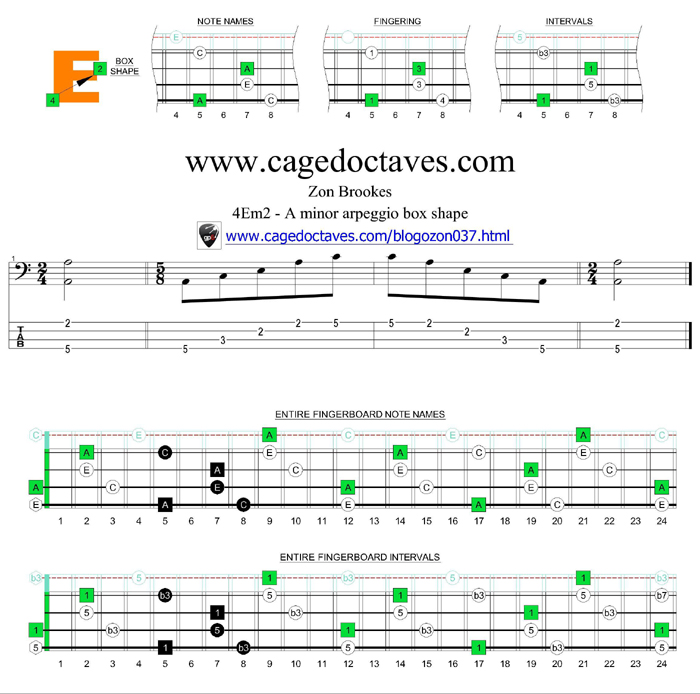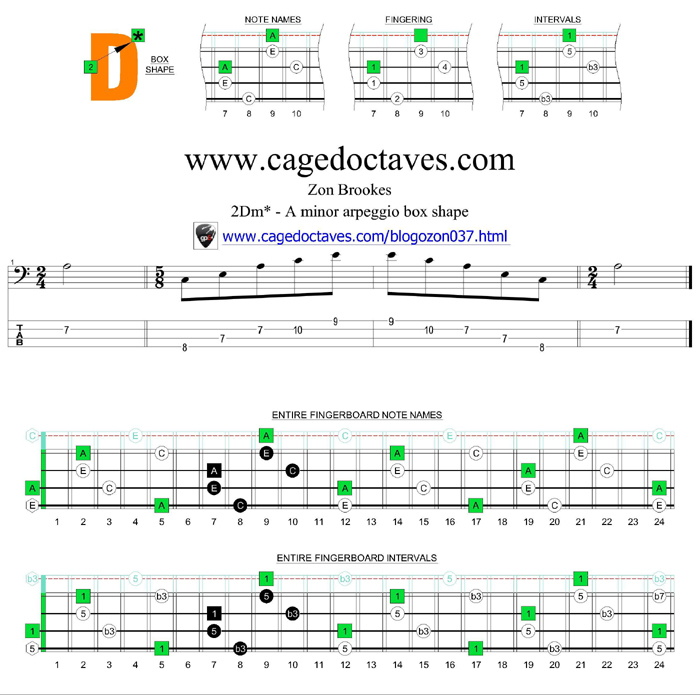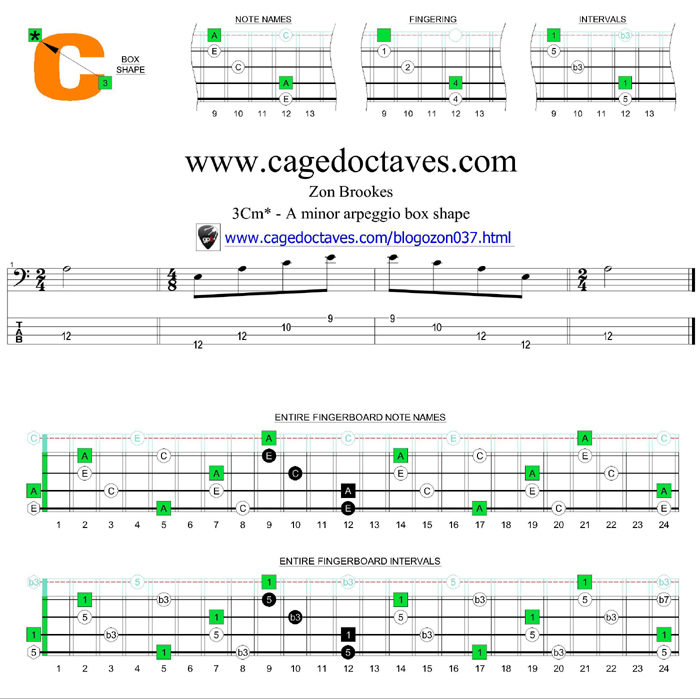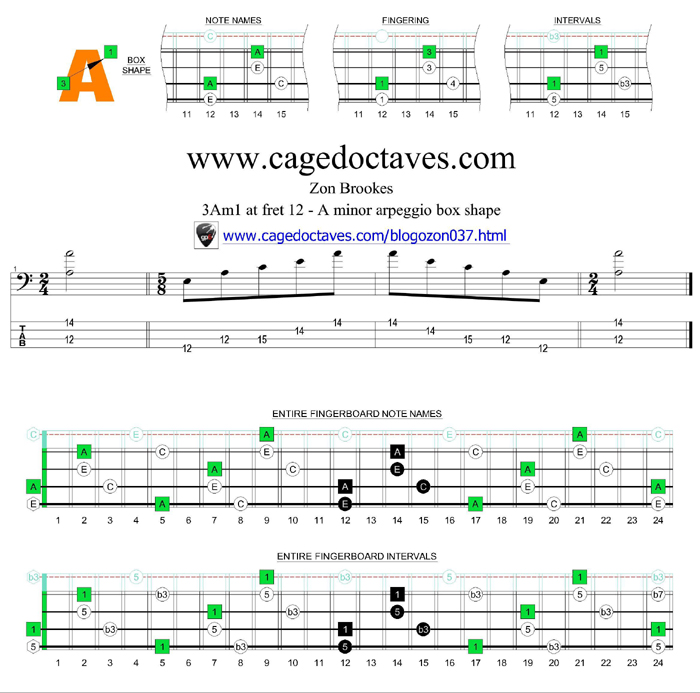 ---
---