Joe Satriani
---
EDCAG octaves - F lydian mode box shapes

The table that follows lists previous BLOGoZON issues where the MAJOR SCALE MODES have been detailed:-
| | | |
| --- | --- | --- |
| BLOGoZON ISSUE No. | MODAL FORMULA | MAJOR SCALE MODE NAME |
| | 1 2 3 4 5 6 7 | Ionian |
| | 1 2 b3 4 5 6 b7 | Dorian |
| - | 1 b2 b3 4 5 b6 b7 | Phrygian |
| - | 1 2 3 #4 5 6 7 | Lydian |
| - | 1 2 3 4 5 6 b7 | Mixolydian |
| | 1 2 b3 4 5 b6 b7 | Aeolian |
| - | 1 b2 b3 4 b5 b6 b7 | Locrian |
This issue demonstrates the perfect mode to improvise guitar solos over the chords listed in the next table - the LYDIAN MODE.
| | | |
| --- | --- | --- |
| CHORD SYMBOL | CHORD NAME | FORMULA |
| F | major | 1 3 5 |
| Fmaj7 | major seventh | 1 3 5 7 |
| Fmaj9 | major ninth | 1 3 5 7 9 |
| Fmaj9#11 | major ninth sharp eleventh | 1 3 5 7 9 #11 |
| Fmaj13#11 | major thirteenth sharp eleventh | 1 3 5 7 9 #11 13 |
The reason this mode works over these chords is that they are both essentially the derived from the same thing i.e the Fmaj13#11 chord is the lydian mode stacked in thirds.
The easiest example of the lydian mode is rooted on F natural - as it is really the C major scale re-arranged so that it starts with the fourth note (F) rather than the first (C).
Hence the EDCAG octaves sequence is shown for F natural in the diagram that follows:-


The diagram that follows shows all of the F lydian mode notes plotted over the entire guitar's fretboard in the EDCAG octaves style:-

Once again a more long term solution to fretboard navigation is to see scales/modes/arpeggios as INTERVAL shapes rather than note names - as these are universal to all scales, modes, arpeggios and chords rather than specific to one particular root note - with this in mind the intervals for the F lydian mode are detailed below in the EDCAG octaves manner:-

All modes (and scales for that matter) have an underlying triad - 3 note chord - that defines their tonality.
In the case of the F lydian mode this the F major arpeggio - hence the notes for an F major triad are shown the EDCAG octaves style in the next diagram.

Similarly the intervals forming an F major arpeggio are shown next:-

The table and tabbed panel below detail all five box shapes for the F lydian mode in the EDCAG octaves style.
---
EDCAG octaves - F lydian mode box shapes

---
6E4E1
4D2
5C2
5A3
6G3G1
6E4E1 at 12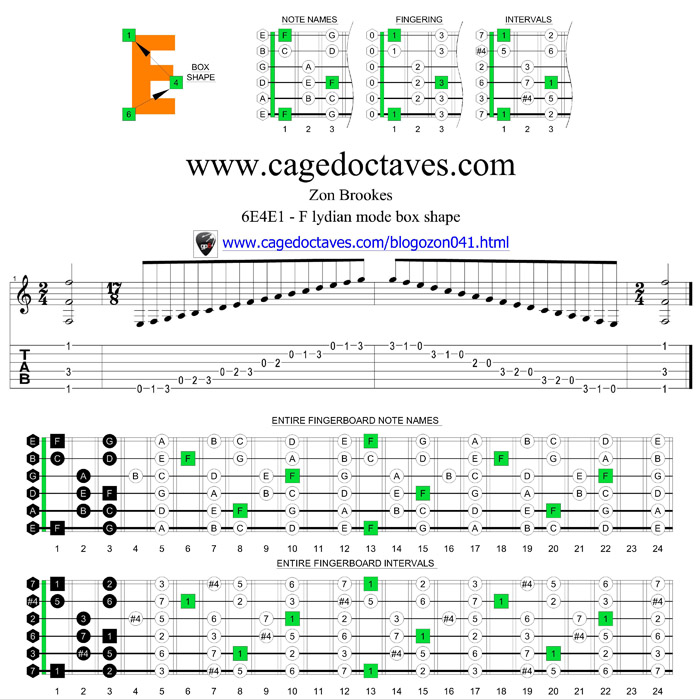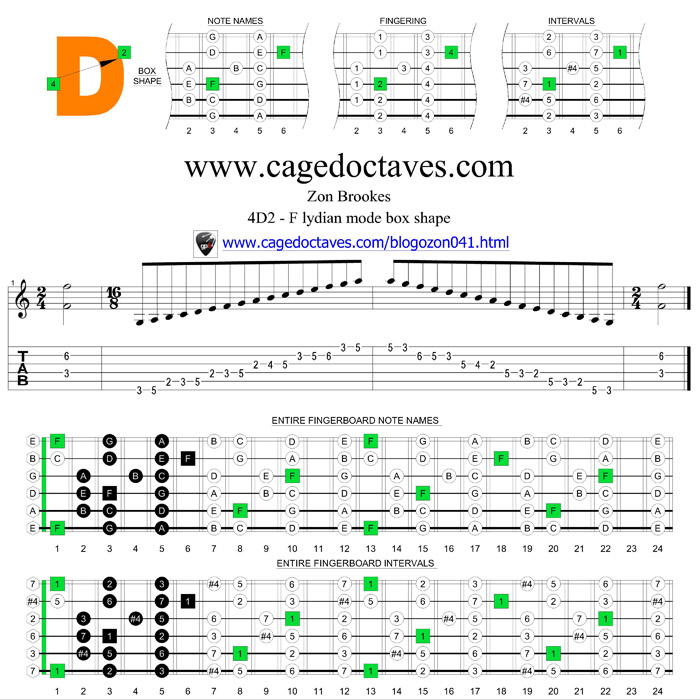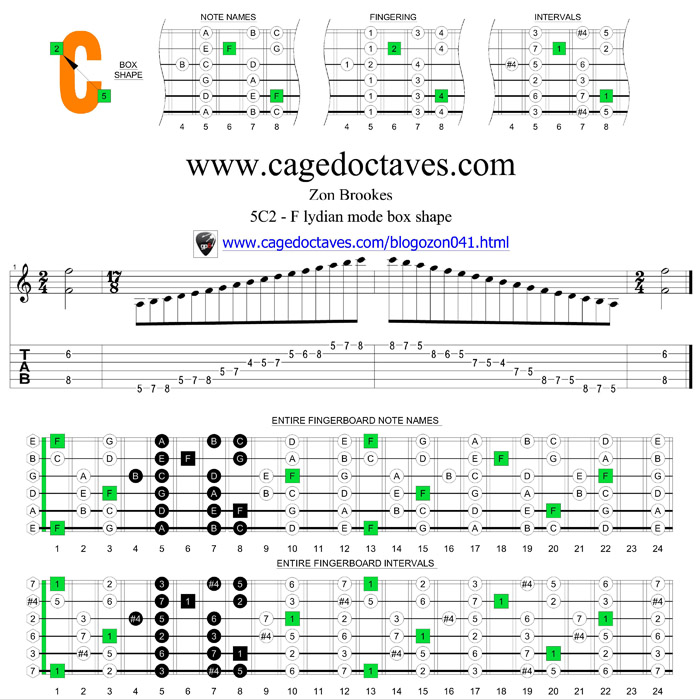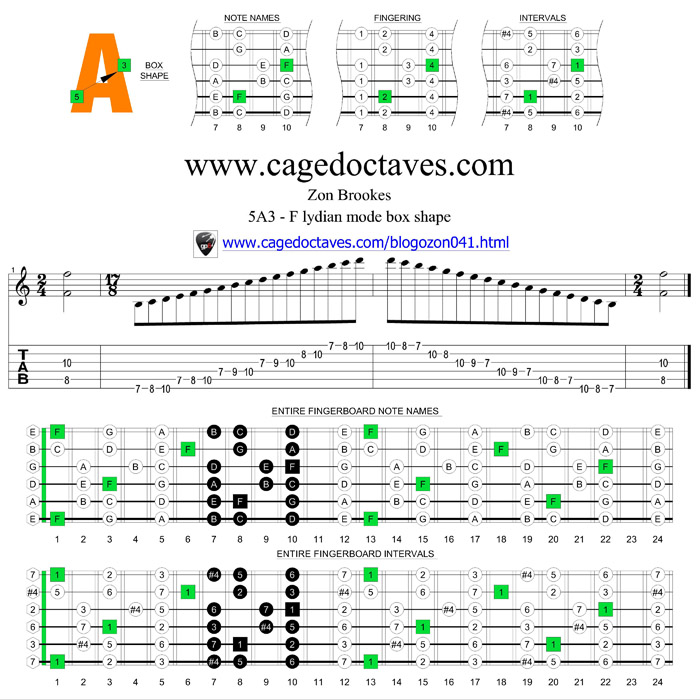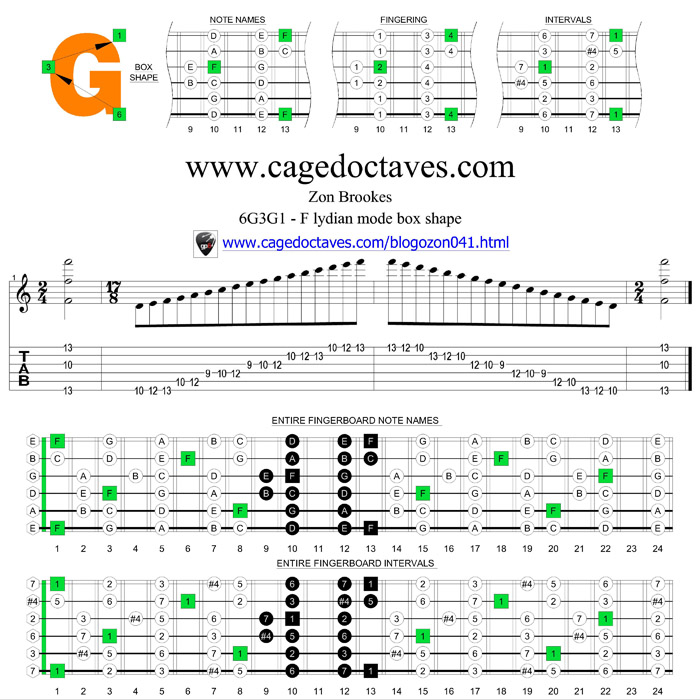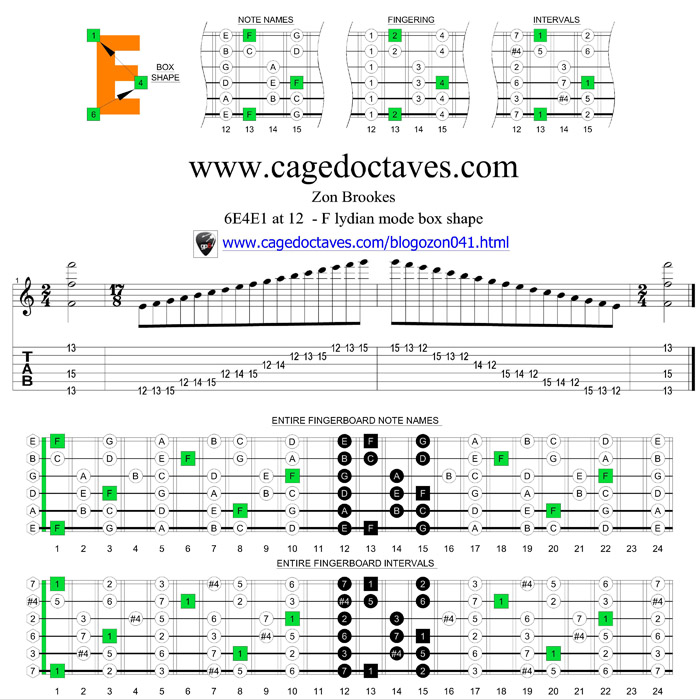 ---
---