---
| | | |
| --- | --- | --- |
| | A method for 4-string bass guitar using linked octave shapes. Enables systematic navigation of the bass guitar fingerboard for standard and 3 notes per string scale and arpeggio box shapes. | |
---
Geezer Butler
---
The table that follows lists previous BLOGoZON issues that relate to the CAGED4BASS methodology:-
| | |
| --- | --- |
| BLOGoZON ISSUE No. | CAGED4BASS |
| | C major scale box shapes |
| | Csus2 arpeggio box shapes |
| | C major arpeggio box shapes |
| | Csus4 arpeggio box shapes |
| | C pentatonic major scale box shapes |
This issue demonstrates the ideal notes to create bass-lines over DOMINANT SEVENTH chords i.e. dom7.
The easiest example of the dom7 is rooted on C natural, hence the C natural version of the CAGED4BASS octave sequence is shown in the diagram that follows:-


The diagram that follows shows all of the Cdom7 arpeggio notes plotted over the entire 4-string bass guitar's fretboard in the CAGED4BASS style:-

As always a more long term solution to fretboard navigation is to see scales/arpeggios as INTERVAL shapes rather than note names - as these are universal to all scales, arpeggios and chords rather than specific to one particular root note - with this in mind the intervals for the Cdom7 arpeggio are detailed below in the CAGED4BASS manner:-

The table and tabbed panel below details all five box shapes for the Cdom7 arpeggio in the CAGED4BASS style.
---
CAGED4BASS - Cdom7 arpeggio box shapes

---
3C*
3A1
4G1
4E2
2D*
3C* at 12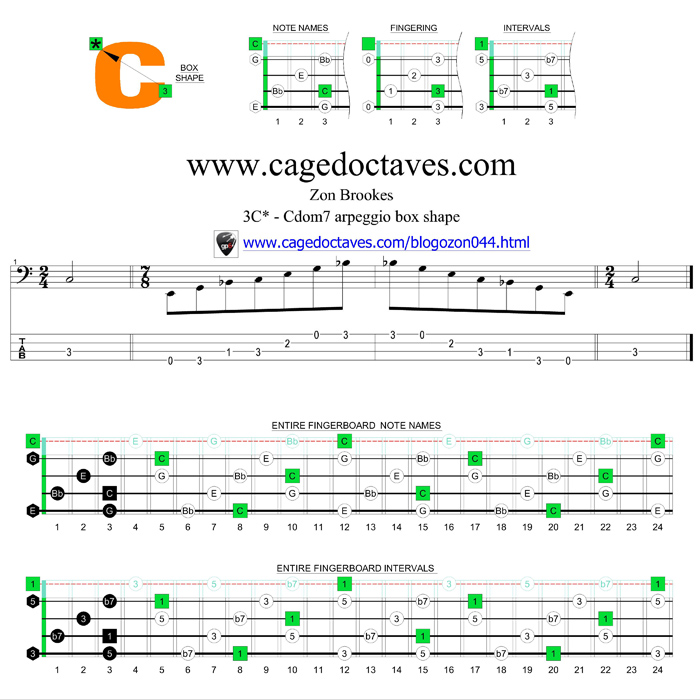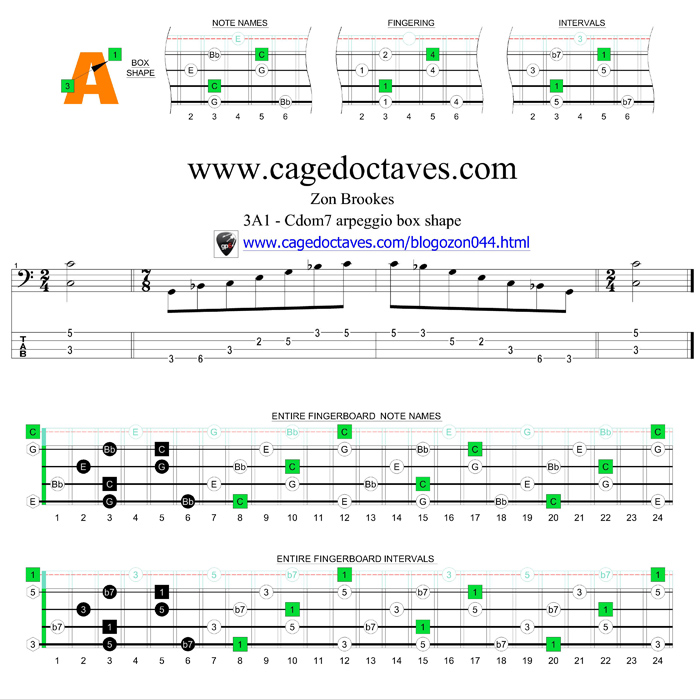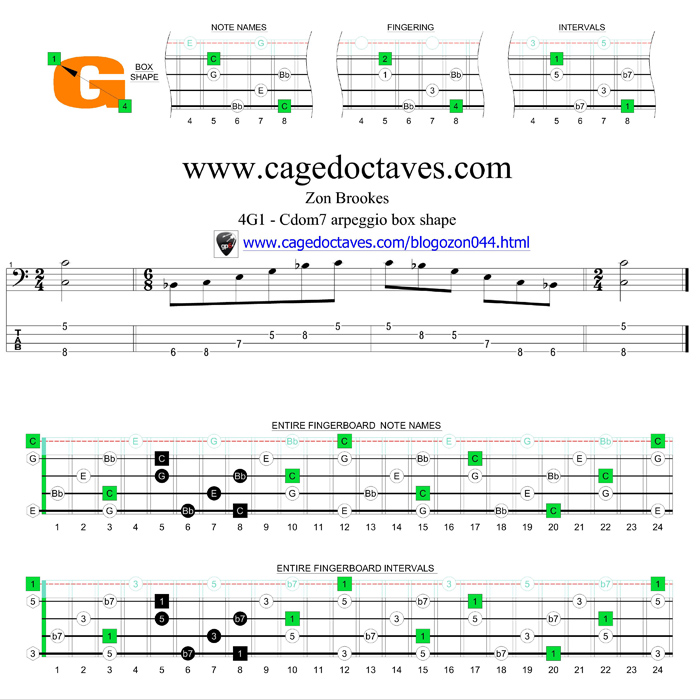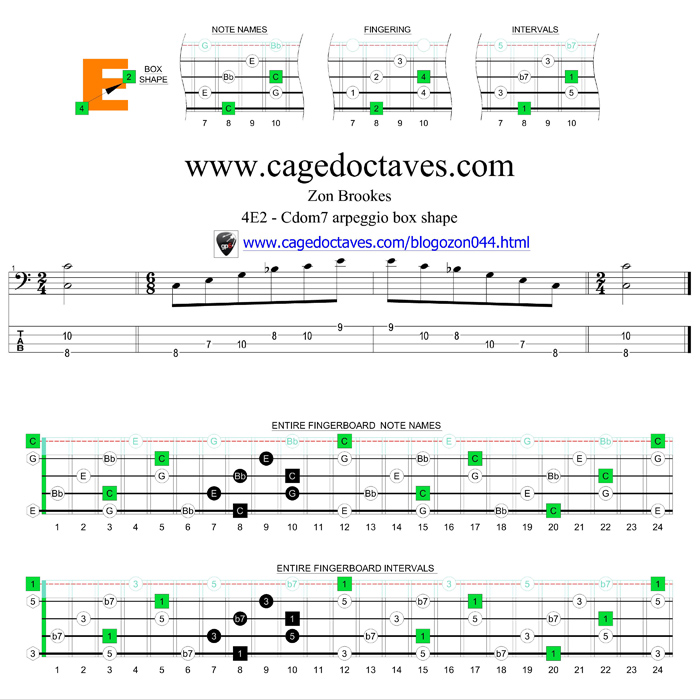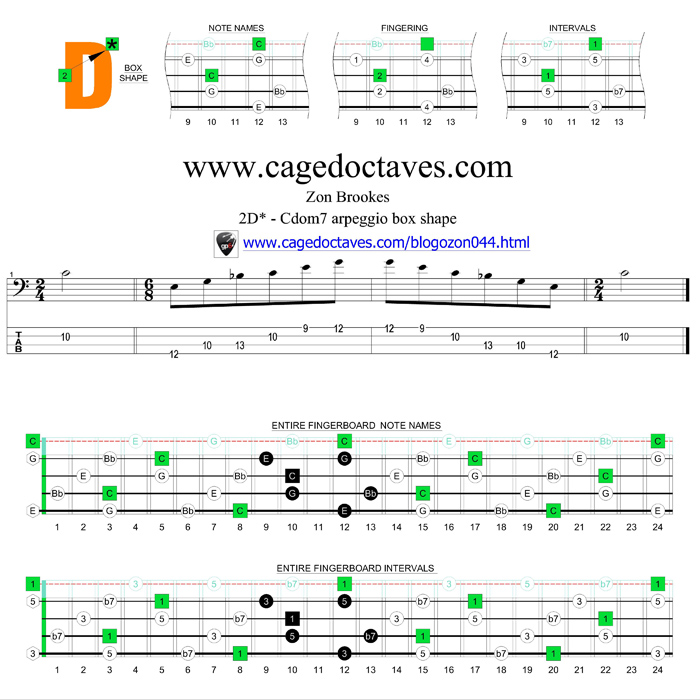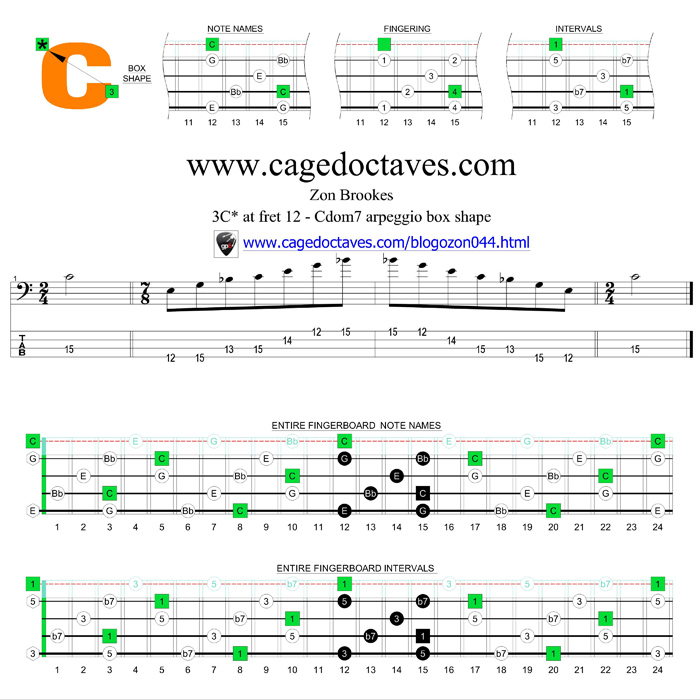 ---
---