MEAT & POTATOES: IONIAN MODE
Support BLOGoZON and buy.......

direct from Lulu.com
---
John Petrucci
---
E phrygian mode box shapes

The table that follows lists previous BLOGoZON issues where the MAJOR SCALE MODES have been detailed:-
| | | |
| --- | --- | --- |
| BLOGoZON ISSUE No. | MODAL FORMULA | MAJOR SCALE MODE NAME |
| | 1 2 3 4 5 6 7 | Ionian |
| | 1 2 b3 4 5 6 b7 | Dorian |
| - | 1 b2 b3 4 5 b6 b7 | Phrygian |
| | 1 2 3 #4 5 6 7 | Lydian |
| | 1 2 3 4 5 6 b7 | Mixolydian |
| | 1 2 b3 4 5 b6 b7 | Aeolian |
| - | 1 b2 b3 4 b5 b6 b7 | Locrian |
This issue demonstrates the perfect mode to improvise guitar solos over MINOR chords to produce a hard rock feel a la John Petrucci - the PHRYGIAN MODE.
In the key of C major (or A minor) the SCALE chords built starting on the second note (E natural) are listed in the next table:-
| | | |
| --- | --- | --- |
| CHORD SYMBOL | CHORD NAME | FORMULA |
| Em | minor | 1 b3 5 |
| Em7 | minor seventh | 1 b3 5 b7 |
| Em7b9 | minor seventh flat nine | 1 b3 5 b7 b9 |
| Em11b9 | minor eleventh flat nine | 1 b3 5 b7 b9 11 |
| Em13b9 | minor thirteenth flat nine | 1 b3 5 b7 b9 11 13 |
The reason this mode works over these chords is that they are both essentially derived from the same thing i.e the Em13b9 chord is the PHRYGIAN MODE stacked in thirds.
The easiest example of the phrygian mode is rooted on E natural - as it is really the C major scale re-arranged so that it starts with the third note (E) rather than the first (C).
Hence the EDCAG octaves sequence is shown for E natural in the diagram that follows:-


The diagrams that follows show all of the E phrygian mode notes plotted over the 6-string guitar's fretboard in both the

and EDCAG octaves styles:-


As always a more long term solution to fretboard navigation is to see scales/arpeggios as INTERVAL shapes rather than note names - as these are universal to all scales, arpeggios and chords rather than specific to one particular root note - with this in mind the intervals for the E phrygian mode are detailed below in the EDCAG octaves manner:-

The table and tabbed panel below details all five box shapes for the E phrygian mode in the EDCAG octaves style.
---
EDCAG octaves - E phrygian mode box shapes

---
6Em4Em1
4Dm2
5Cm2
5Am3
6Gm3Gm1
6Em4Em1 at 12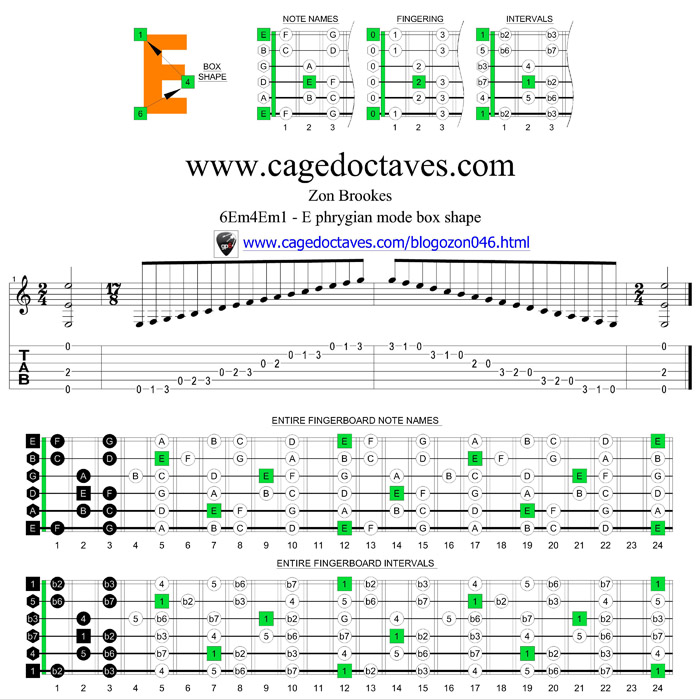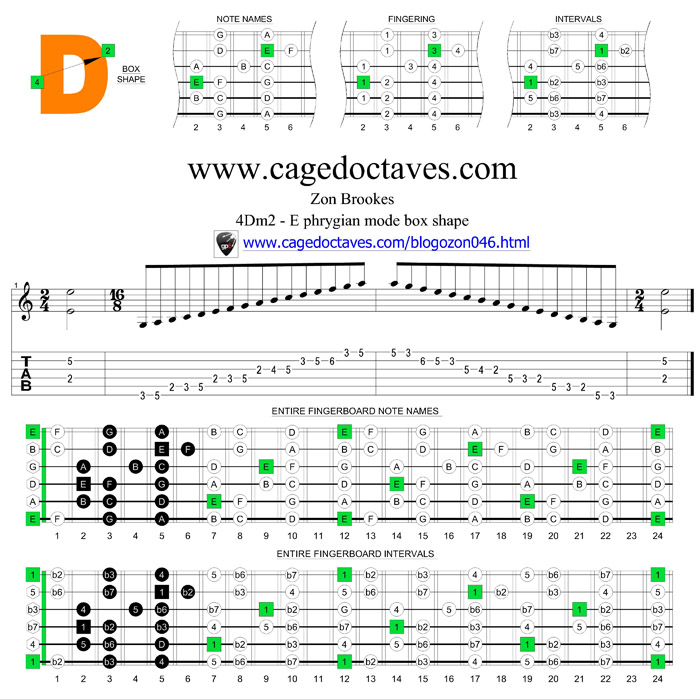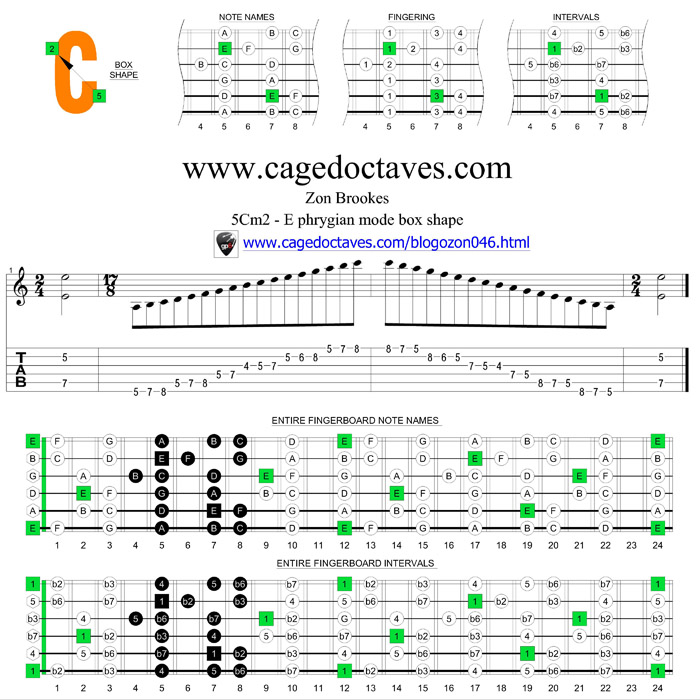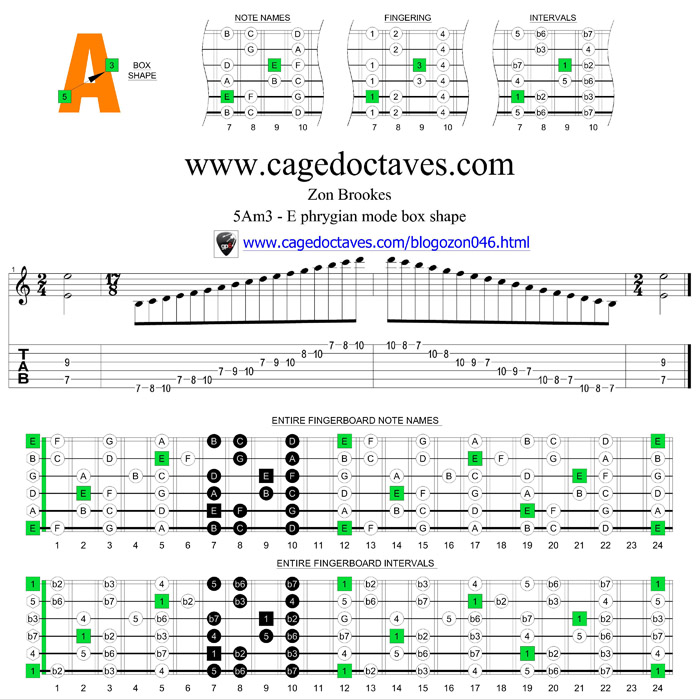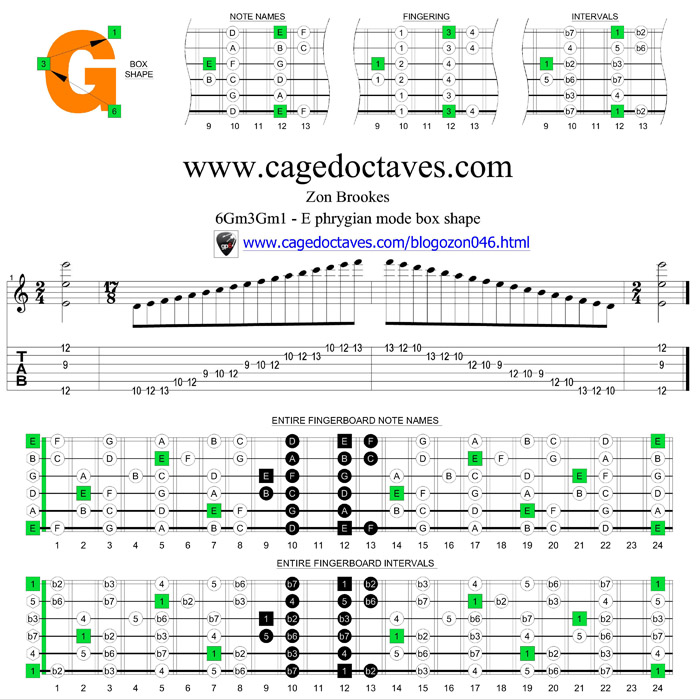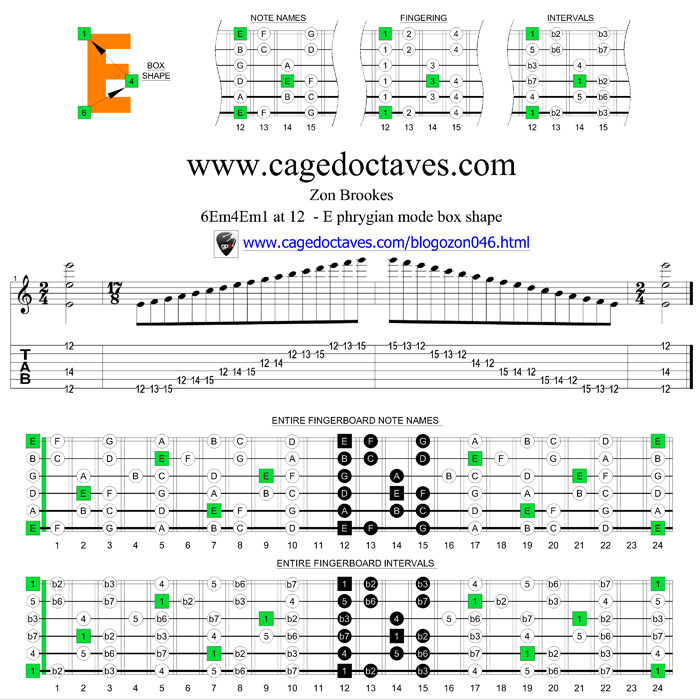 ---
---